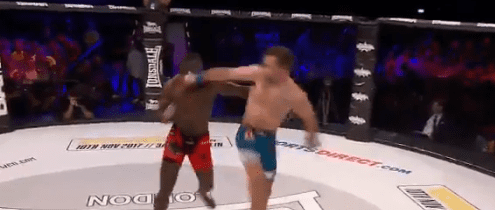 BAMMA 31 was a fun one for fans in London tonight, with finish after finish on the main card. The best, however, may have been saved for last.
In the main event of the evening, there was a welterweight title fight between the champion Nathan Jones and Alex Lohore.
While the first round was closely fought, the ending was nothing but emphatic. As the two disengaged from the clinch, Lohore hit a nice elbow on the seperation, only to follow it up with an absolutely brutal knee to Jones' head for the win.
Check it out below:
Another KO Another New Champion #BAMMALondon #MMA pic.twitter.com/WzIQ7KihjT

— BAMMA (@BAMMA) September 15, 2017
And that was just one of three incredible finishes to fights.
In the co-main event of the card, we also saw Mike Shipman hit a beautiful spinning backfist on middleweight Yannick Bahati in the third round to win the title.
Oh My…. BLAM! New champ. The Sea Bass Strikes! pic.twitter.com/DdDusISRxy

— BAMMA (@BAMMA) September 15, 2017
Before that? Former 'Georgie Shore' reality star Aaron Chalmers came flying out of the gates in his fight with Alex Thompson, hitting a beautiful left hook that put Thompson to sleep, before landing a right cross on the way down.
A stunning reinforcement that the TV star isn't just here as a novelty.
BOOOM! Who doubts him now? #BAMMALondon #MMA pic.twitter.com/aXVFqLvhOF

— BAMMA (@BAMMA) September 15, 2017
—
Comments
comments