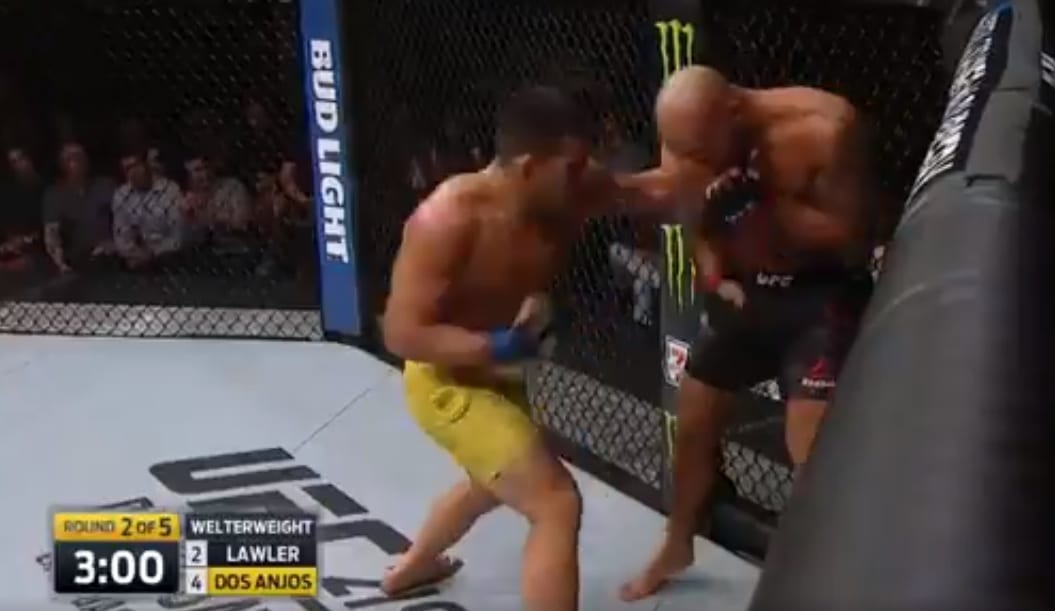 On Saturday night's main event of the UFC's trip to Winnipeg, former lightweight champion Rafael Dos Anjos announced himself as a contender at 170-pounds with a clear-cut decision victory against former welterweight champion Robbie Lawler.
The Brazilian is now 3-0 since moving up a weight class following successive 155-pound losses against Eddie Alvarez and Tony Ferguson. However, it was the manner of his dominance facing Lawler last weekend which served notice to the rest of the welterweight division that there is a new name atop the rankings at 170-pounds.
Perhaps the most memorable moment from the Dos Anjos' victory was the record-breaking flurry of punches in the second round, which goes down as the longest barrage of strikes in the organisation's history. RDA pushed forward, trapping his opponent against the fence before unleashing the unanswered series of strikes, some of which were blocked by Lawler but many breached his defenses nontheless.
Lawler has pointed to an injury which he sustained to his left knee during the contest which severely hampered his movement. It is a testament to his toughness that Lawler survived the moment, as well as the rounds which followed, as he was essentially a stationary target from the third round onwards.
A video of the moment was captured cageside by ring announced Bruce Buffer and shared by Australian kickboxer John Wayne Parr, which you can see below.
Sublime performance by Rafael dos Anjos. He picked Lawler apart with his leg kicks, movement and body shots. Here's the :23 barrage of punches landed. #UFCWinnipeg pic.twitter.com/sMb3VMWjdL

— Ahmar Khan (@AhmarSKhan) December 17, 2017
Beautiful violence by @rdosanjosmma 😈. Turn sound on to appreciate how hard the punches were landing.
Footage cageside by @brucebufferufc 😊🙏🏻. pic.twitter.com/5Nzvrpu7qO

— John Wayne Parr (@johnwayneparr) December 18, 2017
.
Comments
comments