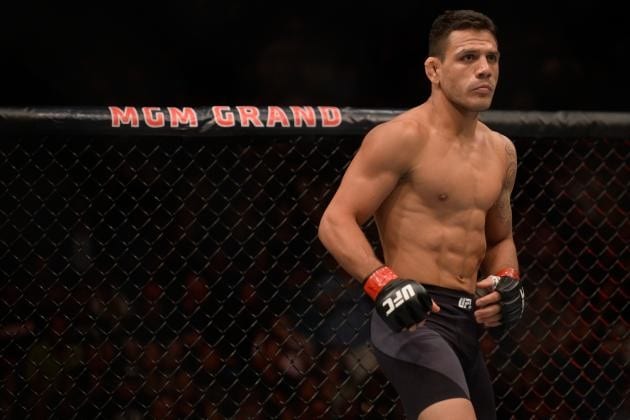 Save the contest in which he won his lightweight title, Rafael Dos Anjos' win over Robbie Lawler might go down as one of the most memorable wins of his career.
Having found himself a resurgance at 170-pounds, Dos Anjos ability to completely null Lawler's offence and have the former welterweight champion on the back foot from the opening bell showed the Dos Anjos is well and truly back on form as a contender, even against bigger men.
Prior to the contest, UFC president Dana White had billed the fight as a number one contender's bout for Tyron Woodley's title. While there are rumours circling that an Ultimate Fighter season featuring Woodley and Colby Covington as coaches is in the works, Dos Anjos is still hopeful he'll be the one to meet Woodley upon the champion's return from injury.
"I'm able to wait for him," Dos Anjos said at UFC Winnipeg's post-fight press conference. "I think I did enough in the division to deserve the title shot. And I'm not a guy that talks so much, try to get that title shot because I'm talking bad about people, cursing people. I just go there and do a great performance like I did tonight. I hope so. Dana White said that. That's what I hope."
While title shots can be hard to come by in a sport where anyone can grab the attention of the masses and 'skip the queue', Dos Anjos remains steadfast that he'll do whatever he needs to do to get a gold belt around his waist once again.
"People forget. Most of the people in MMA, MMA fans, they have very short memory," Dos Anjos said. "People remember you because of your last performance; they don't remember your whole career. I never had an easy path to get to the lightweight belt. I'm not gonna have an easy path to the get to the welterweight belt. I'm not the guy that talk much, I don't curse people. I just go in there and work."
—
Comments
comments