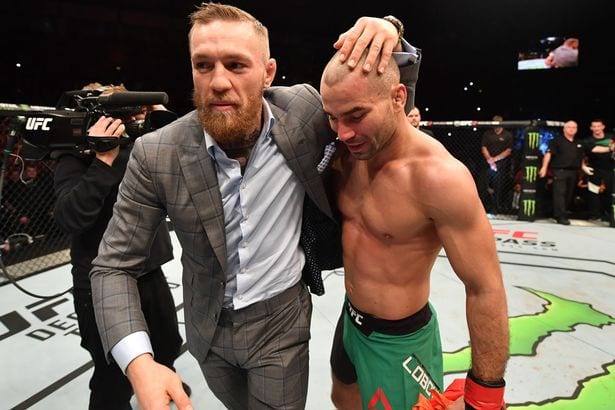 As Artem Lobov says himself, he was born in Russia but forged in Ireland. And, to continue that metaphor, a large part of Lobov's smithing has been done alongside, and in direction competition with, Conor McGregor.
On Saturday Lobov will face Alex Caceres in the main event of the Fight Pass portion of the UFC 223 card in Brooklyn, New York. It is the latest step in Lobov's sprawling MMA career which has seen him compete across the globe, but all of those steps can be traced directly back SBG Ireland, and a certain Dubliner who he met between its walls.
"I couldn't tell you how many rounds I've done with Conor," Lobov said to The Sports Chronicle. "Thousands. It's been many, many rounds.
"Every camp we spar. Even outside camp, we spar. We would do ten MMA rounds in the morning and then he would teach boxing at night. I would come in there and we would do more rounds. Sometimes I remember it wasn't even rounds, we wouldn't have a timer and he'd say 'I'll just time them in my head.' Some of the rounds would go on for a lot longer than five minutes."
One of the benefits of working so closely with the most famous name in the fight game is the access to world class training systems that come with it. Such was the case with the camp for last year's boxing match between McGregor and Floyd Mayweather.
"Being part of Conor's camp is always great," he explains. "You get to train with the best guy in the world — a world champion. Even though you are helping him get better, you also get better. He's got the best coaches around him, the best nutritionists, the best physios, the best of everything and you get the benefit of that as well.
"I always feel like my own skill-set goes to the next level after each and every camp."
Watch the full interview below:
.
Comments
comments