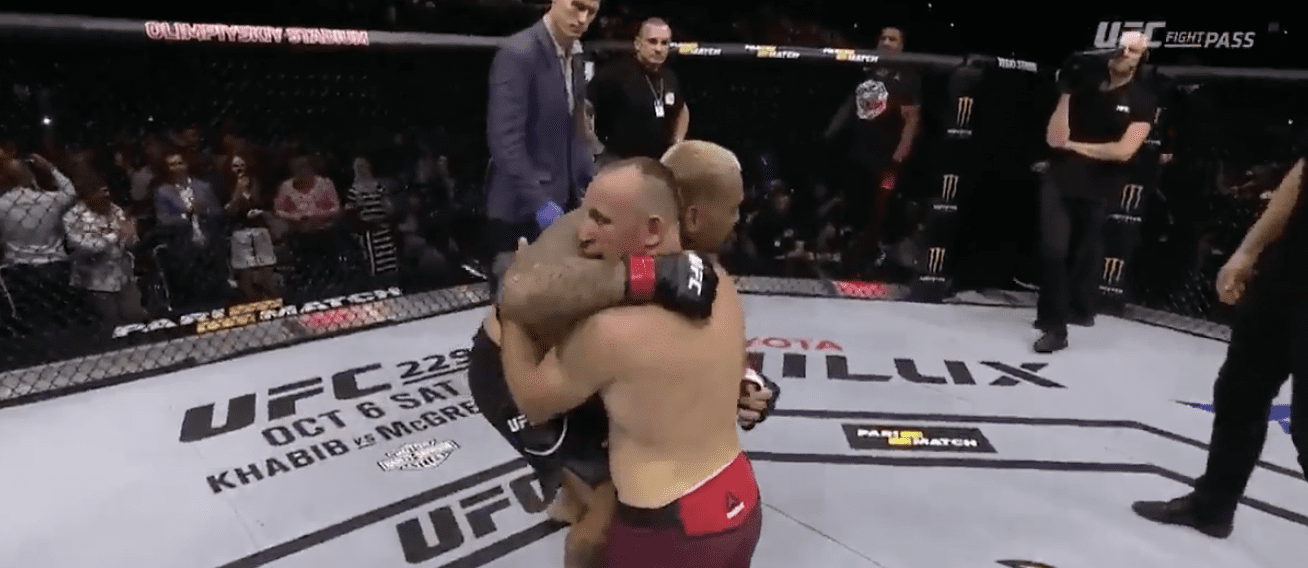 Aleksei "The Boa Constrictor" Oleinik indeed.
At the first ever UFC event in Moscow, Oleinik met fan favourite Mark Hunt in the main event, and despite taking some heavy hits from the 'Super Samoan', managed to earn himself an impressive first round victory.
For a while it looked as if Hunt had the momentum, as he marched forward landing several heavy leg kicks that left Oleinik limping, as well as a huge right hand. The tide turned quickly, however, when Oleinik started firing back with his own offence, catching Hunt and forcing him to backpedal which appeared to result in a trip.
HOW IS HE STILL STANDING!? #UFCMoscow pic.twitter.com/eMhfx26Xhk

— UFC (@ufc) September 15, 2018
No neck. No problem. The Boa Constrictor strikes again! 🐍

Submission 4️⃣5️⃣ for @oleynikufc!

Listen to that Moscow roar! 🔊 pic.twitter.com/kSeR7Zgjqm

— UFC on BT Sport (@btsportufc) September 15, 2018
As soon as they hit the canvas, it was all Oleinik's world, and after securing the back the rear-naked choke followed quickly.
"I got caught, congratulations to Oleinik," Hunt said. "Enjoy the rest of the journey up. That's this business, you get caught and you lose. … Thank you to the Russian fans, it's great, I love your country. You got a good champion here, so support him going up."
The contest result see's Hunt's record move to 13-13-1, while Oleinik makes it 57-11 with the win.
Comments
comments