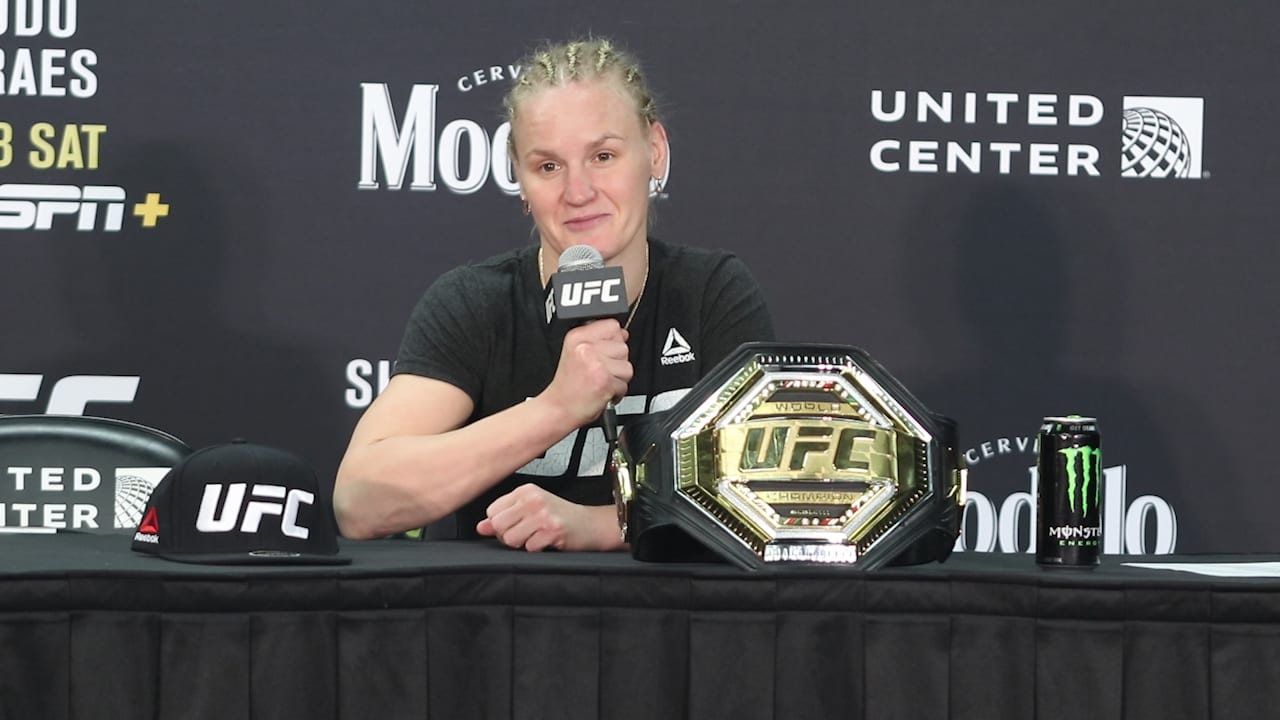 When Valentina Shevchenko retained her UFC flyweight championship at UFC 238, she didn't just walk away with a win, she walked away with a knockout on her highlight reel for the rest of her career.
Shevchenko flattened contender Jessica Eye with a huge head kick in the second round, rendering her unconscious and reminding viewers why the champion is considered a fearsome challenge for anyone to meet in the cage. Even more scary, it now seems, is the fact Shevchenko saw the ending of the fight in her mind almost as soon as the contest started.
"I saw this hole and I started to work on it," Shevchenko said, speaking with Submission Radio. "When I saw her stance, I knew that the spot in her body was open, and I started to work on this spot – work hard, with hard kicks. And this is what made you think that I will go there forever, because it hurt and I could feel it. And that's why I just changed direction of my kick in the last moment and it went to the head.
"From the first kick that I made to her body, I knew that this is what I want to do, but at the same time I knew that it's not gonna last all five rounds. [I knew] from the very first kick. I knew that I would finish the fight soon."
The win, which many had expected to go Shevchenko's way, is a stark solidification that 125-pounds is very much Shevchenko's division — a role in which she aims to thrive.
"To be the champion is every time extra pressure, because everyone looks up to you and everyone's like measuring what you're saying. You cannot just say any kind of silly stuff or something because you are the face, you are the face, you are the champion," Shevchenko said. "And it's good, it's good. It's because everyone wants to be champion to make people listen to this person, and it's a very good responsibility. Of course, it's double work, it's double pressure for sure, but here we are for this one to be successful in what we are doing.
"And if we are speaking specifically about me, this is what I every time was looking for to be the champion. Doesn't matter where I am, what promotion I'm fighting in, every time for me it was the goal to go to the fight and be the winner, not just having fun in the fight. Because it's not fun when you get kicked liked this, it's not fun at all. The fight, I would say in general, it's not having fun, it's very hard work.
"But it pays off everything. Everything pays off. Because your dedication, everything that you are spending into martial arts, you get double more, you get much more positive energy, like, love of the fans and support. It's very important. And in my case, I enjoy all my travels to be able to meet new different people, to know them and to share my experience with them, their experience with me. So, my sacrifice is coming back to me in double way."
Comments
comments