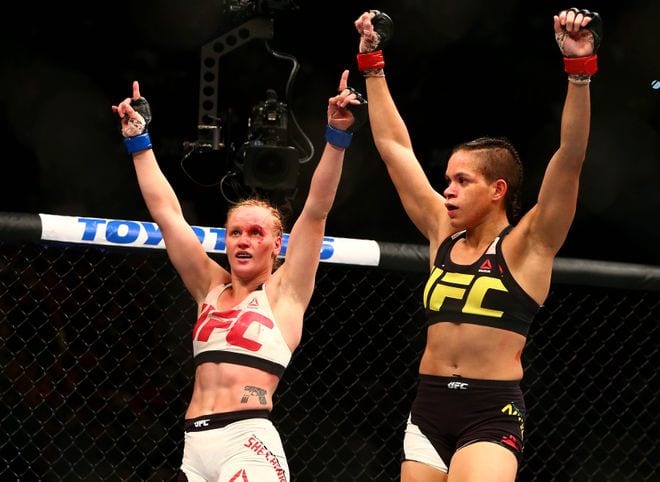 It seems Valentina Shevchenko and UFC women's bantamweight champion Amanda Nunes will be squaring off sooner than later.
The two have been set to face each other after Shevchenko defeated fellow 135-pound contender Julianna Pena in January to become the number one contender. One in-Octagon face off later, and the bout was all but confirmed officially.
Now, Shevchenko has taken to social media to insinuate that we could be getting that fight scheduled into concrete terms momentarily.
It's coming!… #soon #goodnews
Уже скоро!… #хорошиеновости pic.twitter.com/nb2ymGFmj6

— Valentina Shevchenko (@BulletValentina) May 3, 2017
There is currently no confirmed date for the bout, but reports are circling that the two could be attached to UFC 213 or UFC 214, both of which take place in July.
Nunes came to prominence after two destructive victories. One to win the title from Miesha Tate at UFC 200, and the other a beating of former bantamweight women's champion Ronda Rousey in December. Her hard hitting punches and increasing takedown defence appears to have turned the Brazilian into a dominant force at the top of the division.
As for Shevchenko, she's been quietly knocking off contenders herself, defeating Holly Holm and Pena to earn her the title shot.
The two have actually fought before, with Nunes emerging victorious on that occasion — although momentum definitely appeared to be moving back into Shevchenko's favour towards the end of the bout. In a five round fight, there will almost certainly be a different feel.
Comments
comments