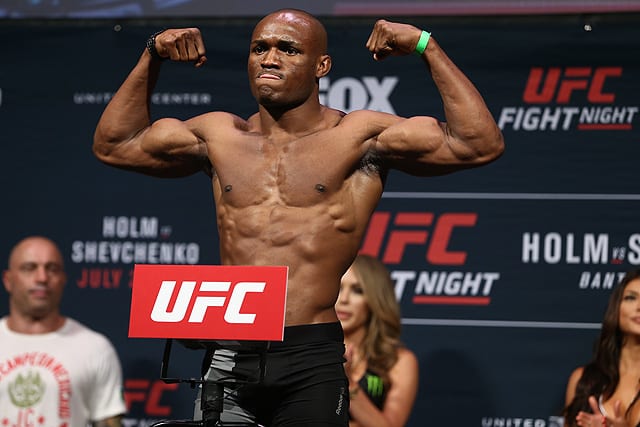 Kamaru Usman might have lost his belt, but he hasn't lost his drive to compete after his crushing KO loss to Leon Edwards in the UFC 278 main event.
Usman was on his way to a decision win against the welterweight division's top contender in Edwards before he was hit with a fight-ending headkick which ushered in a new era in the 170-pound fold — but as far as he is concerned, the new champion's reign will be a short one when all is said and done.
"I've watched that fight now, what, three four times…No, it's not hard at all," Usman told TMZ of his reflection on the contest. You know how many people I've done that to? Like, that's the thing, that's the beautiful thing about this sport is, that happens and we forget what was actually taking place in that fight. So, I'm not down at all! You know, it's almost like everyone is more sad about it than I am… For me that's a good thing because it lets me know that people care."
Usman fell around a minute short of equalling Anderson Silva's record of 16 consecutive UFC wins, but he says he is more than determined to use the setback as motivation to fuel another championship run ahead of a presumed rematch between the two wearly next year.
"I'm so gracious to be in that place and time right now where people just care that much," he added of the reaction to his loss. "Like I thought I was famous before, but f*ck, with the meme action going on, I'm famous now. But it's just an added bonus, an added hunger to the return."
Comments
comments