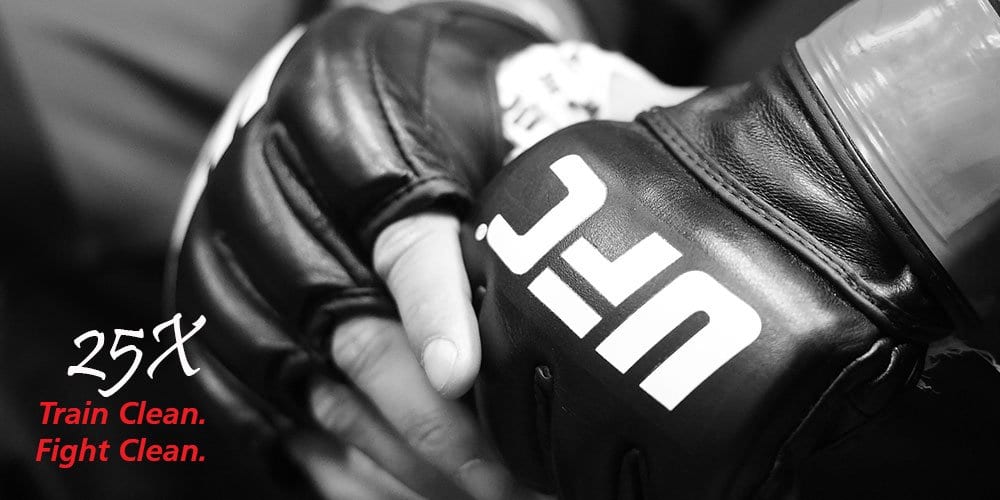 While USADA's relationship with the UFC hasn't been easy at all times, as we approach the three year anniversary of the the anti-doping partnership, the pair clearly believe there is something to celebrate.
Going forward, USADA will begin awarding fighters who have passed 25 drug tests with a commemorative t-shirt displaying the slogans 'Follow My Lead', '25x' and 'Train Clean, Fight Clean'. The news was announced by the company in a press release.
"Participating in a robust anti-doping program requires a year-round commitment to competing clean, both by being available for testing without notice and in being diligent in what you consume," USADA CEO Travis T. Tygart stated. "The program can be inconvenient at times, but as we hear from athletes frequently, it's a lot less inconvenient than being seriously hurt or being robbed of a win. These athletes have hit a high mark for the UFC program and are role models for clean sport competition."
Also to be released this month are a number of video packages featuring UFC heavyweight champion Stipe Miocic, former UFC lightweight champions Eddie Alvarez and Rafael dos Anjos, and UFC women's strawweight Tecia Torres. They'll be discussing the benefits of USADA and clean competition.
"I've been in the UFC for 10 years, over 37 fights, and my whole life I've competed clean," dos Anjos said in the press release. "It's just good for my legacy to have a clean record, and the only thing that doesn't show on the blood test is the hard work. The reason that I compete clean is that I want to be fair to people. I think it's fair for everybody else to compete clean."
So far 19 fighters have reached the milestone, being: former UFC women's bantamweight champion Holly Holm (35), UFC women's featherweight champion Cristiane Justino (33), former UFC lightweight champion Eddie Alvarez (32), former UFC light heavyweight champion Vitor Belfort (32), UFC light heavyweight champion Daniel Cormier (30), former UFC lightweight champion Rafael Dos Anjos (30), UFC heavyweight champion Stipe Miocic (28), former UFC welterweight champion Robbie Lawler (27), UFC bantamweight champion TJ Dillashaw (27), former UFC featherweight and UFC lightweight champion Conor McGregor (27),  Edson Barboza (27), former two-time UFC bantamweight champion Dominick Cruz (27), former UFC heavyweight champion Fabricio Werdum (27), former UFC lightweight champion Frankie Edgar (27), Tecia Torres (26), Stephen Thompson (25), UFC welterweight champion Tyron Woodley (25), Dustin Poirier (25) and former UFC welterweight champion Johny Hendricks (25).
Finally, there will be a new Twitter feed dedicated to athletes reaching the milestone (twitter.com/USADA_UFC), which will "provide stories, advisories, and messages specific to athletes competing in UFC, as well as their fans and followers."
"The initial 19 UFC athletes to be recognized for 25 clean tests under the UFC / USADA Anti-Doping Program are a virtual who's who of UFC's roster," UFC vice president of athlete health and performance Jeff Novitzky said. "These athletes are not only role models for clean sport within UFC and the sport of mixed martial arts, but for all professional sports. We are proud to honor the leadership, compliance and commitment to clean sport this group of athletes have displayed over the last three years, as well as the efforts that all UFC athletes put forth to helping make the Octagon clean and safe."
Comments
comments