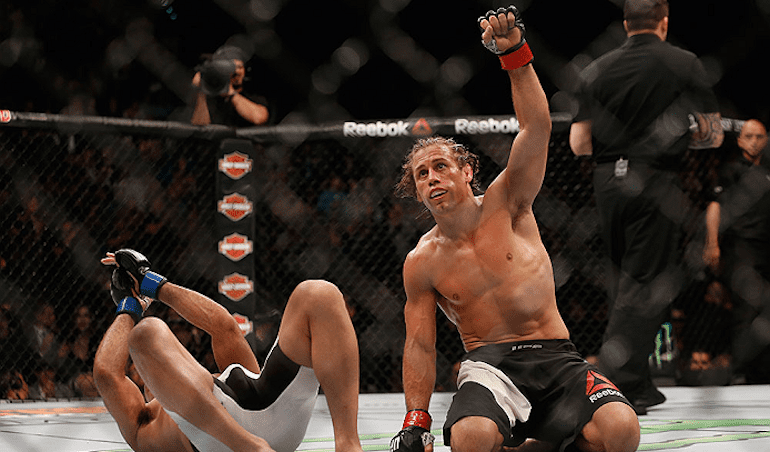 Urijah Faber, hailed by most as the first true superstar among the lower weight classes in MMA, was among the four newest inductees to the UFC Hall of Fame during the recent International Fight Week and 'The California Kid' has been in reflective mood as he surveys the ups and downs of his 44 fight, 13 year career. 
Faber hung up his gloves following a win over Brad Pickett last December and though he failed to win a title during his tenure with the UFC, Faber was thoroughly dominant during his time as the World Extreme Cagefighting featherweight champion during a time when a large sample of the world's best 145-pound fighters were fighting under the WEC banner.
Speaking to MMAJunkie's John Morgan following his induction, Faber said that he is more than satisfied with the legacy he leaves behind.
"I went around collecting belts," Faber said of his earlier career. "My hit list was me being a troll on the Internet, saying who they're saying is the best guy in the world, and calling that guy out.
Remarkably, Faber competed in 23 title bouts across the totality of his career in promotions as diverse as Gladiator Challenge and King of the Cage in addition to the WEC and UFC.
"I went around and collected belts in all the organizations. There was no UFC for me. It wasn't a reality – I helped get it there. I had a lot of (title) shots because I was beating all the top contenders."
While he would of course have liked to have added UFC gold to the other titles he won, Faber says he rests easy knowing the he never once took any shortcuts to attempt to find the easiest way to the top.
"Never did one PED my whole life, and all the cheaters that are out there, shame on you. I was a representative who went from the very beginning to the very end at the top of the world, and had a great time doing it."
Comments
comments