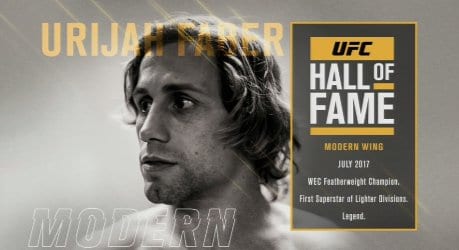 Just months after his retirement, "The California Kid" Urijah Faber is set to be inducted into the UFC Hall of Fame, as announced at UFC 210.
It's an achievement fitting of a career that blazed a trail for the smaller fighters in mixed martial arts. He is set to be placed into the 'Modern Era' wing.
"It's nice to be recognized and it's nice for folks to take time to acknowledge what I've done in the sport because I honestly haven't had much time to do that myself," Faber said, speaking to UFC.com. "I went straight from retirement into business and mentoring and all the other projects I have. So this is a reminder to see that I've done some cool things and people are appreciative, so it is nice."
Congrats @UrijahFaber on making it into the UFC Hall of Fame!

📰 https://t.co/GsxkZztk2i pic.twitter.com/Nl0eJEttgi

— UFC (@ufc) April 9, 2017
Faber's career will be known as something of a pioneer for the lighter weight classes in MMA. His popularity in the WEC was a huge contributor to bringing eyes to divisions under 155-pounds. He retired from active competition in December of last year after a unanimous decision win over Brad Pickett in his home town of Sacramento.
"Beating him made you relevant in the earlier times in this sport," Dominick Cruz, Faber's oldest rival said of the honour. "He's given back the sport, back to his gym and back to these guys, he's put forth a lot of guys in these smaller weight classes."
The Hall of Fame ceremony is scheduled for Thursday, July 6 in Las Vegas, Nevada.
Comments
comments