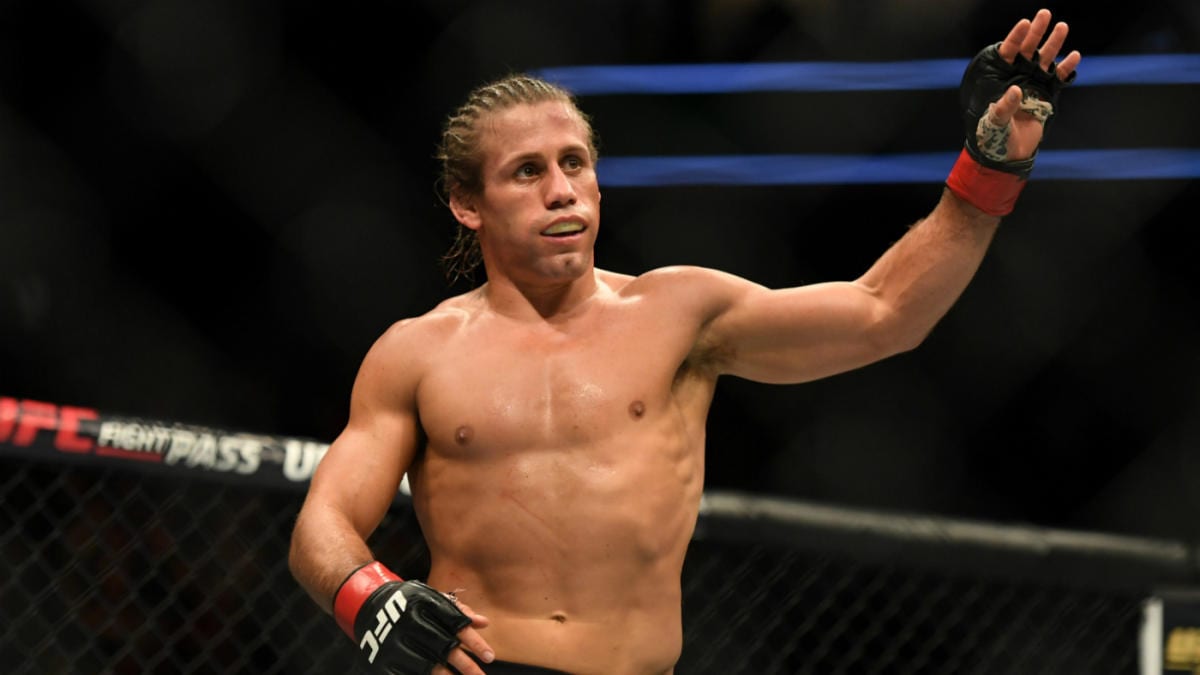 Since the announcement of Henry Cejudo vs. Jose Aldo, there has been a conversation over the legitimacy of giving Aldo a title shot based on the fact the champion Henry Cejudo, not the judges, felt like he defeated Marlon Moraes recently.
Aldo made his bantamweight debut against his fellow Brazilian at UFC 245, where Marlon was given the decision win on two out of three of the judges scorecards. Despite that victory, UFC president Dana White revealed at the post-fight press conference he'd been speaking with 135-pound champion Cejudo, and they'd agreed Aldo had done enough to win the contest.
Following that, the UFC made the decision to have Cejudo meet Aldo in the main event of UFC 250, which takes place May 9 in Sao Paulo, Brazil.
While various fans and pundits might think the decision shows a lack of meritocracy on the UFC's part, and is the latest example of the promotion putting name value over rankings and record, fellow bantamweight and UFC Hall of Faber Urijah Faber believes there's nothing wrong with former foe Aldo getting the shot.
"It's not just a name-value, Jose Aldo is a savage. When I saw him make weight at 135-pounds, I could tell right away he was going to do well at the weight-class," Faber said, speaking to TheMacLife. "As far as whether or not he won that fight — I would lean towards he did win that last fight — and the UFC knows what they're doing. I don't think it's going to be a massive draw either way, unfortunately right now, so they're probably just looking for the fight with the most bang for their buck and Aldo is always a formidable opponent.
"If that makes sense to them, then so be it. It doesn't bother me one bit that he's going to fight Cejudo."
For a moment last year, Faber himself was in a back and forth with Cejudo that had some speculating whether or not the pair could find themselves together in the cage. Instead, however, Faber got matched up with up and coming contender Petr Yan, which saw him lose via knockout in the third and final round after a gutsy performance.
Faber remains under contract with the UFC, and while he's had a few bout offers from the promotion, he's waiting for one that particularly inspires him to get back in the Octagon.
"There's been a couple of fight offers and I'm not against fighting, I just want to ensure it's what I want to do at the moment," Faber said. "I'm doing a grappling competition on March 8, and that's against Dustin Ortiz here in Sacramento. That's kind of what I was doing during my retirement, which was competing — because I still have that ambition to compete.
"There are some fights that interest me, it's also just fun for me to fight. It's a good little financial raise for other things I'm working on. It's a good way for me to get an outlet for my competitive nature, and it's something I'm really, really good at. There's definitely a possibility for me stepping in and doing more fights, I just don't have anything right now etched in contract to step in there. We'll see man, I'll play it by ear and continue to have fun, stay super healthy and have fun, and we'll go from there."
Comments
comments