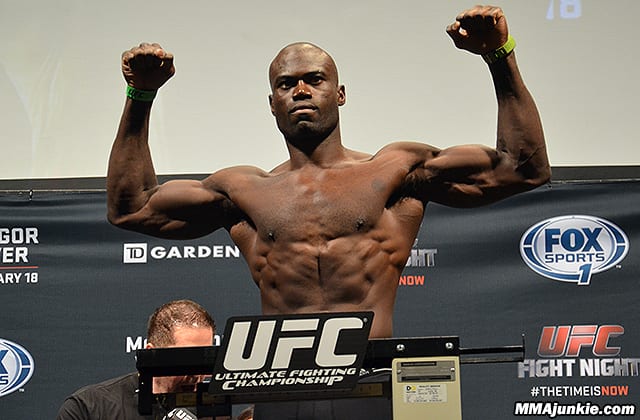 UFC middleweight Uriah Hall has opened up on the disastrous weight-cut for his January bout with Vitor Belfort. 
Hall failed to report to the early weigh-ins during the two-hour window allocated to fighters, forcing the cancellation of the bout. Afterwards, it was reported that Hall had suffered extreme difficulties during his weigh-in, suffering a seizure backstage which precluded him from stepping on the scales.
Not only did Hall confirm the reports of a "mini seizure", he also stated in January that he suffered a "slight heart attack" backstage.
Now, some four months later, he has elaborated on what occurred in an interview with ESPN.
"I was walking to the elevator and boom, just like that, I collapsed," Hall said to Brett Okamoto.
"I was in the elevator holding on to my best friend — apparently I bit him, to hold on to him. I passed out again…woke up and there were EMTs, a guy was trying to get a needle in me, and I remember swinging. I wasn't in control of my body.
"I woke up in the hospital and was screaming for water. 'Give me water! Give me water!' They said, 'We can't give you water yet,' for whatever reason. I grabbed my sister and said, 'Tell them to please give me a sip of water.' I never felt so thirsty in my life. They finally gave me a sip, and I passed out."
The 13-8 fighter described what he suffered as "acute kidney failure" brought on by his attempt to make the 186-pound middleweight limit, which he said was made more difficult as a result of several incidents in the weeks before the fight.
"Two weeks prior to the fight, my coach, Robert Follis, took his life. That really affected me. And one of my best friends, we had to stop talking. It just made me really stressed out. I've cut weight over 20 times. I'm used to it. That one margin of error, that's what cost me. I neglected a health issue. I didn't pay attention to my body. My will took over — I would say my ego took over. There's a time you need to listen to your body."
The practice of weight-cutting has come under considerable criticism in recent times, with several fights in recent UFC history being canceled or amended due to failed cuts, though Hall appears to suggest that unless safety measures are implemented you can't count on the fighters to do so themselves.
"As close as I felt to death, I knew I was good," Hall said. "It's a psychological thing, training your body and mind. You got nothing left but there's that little hope. For a lot of people who aren't athletes, to step foot into that uncomfortable situation — you're basically gonna kill yourself when you fight, anything can happen — it's hard to understand that mentality.
"The realm of a fight's existence is to step outside of your comfort zone for a split second — to be so ridiculously uncomfortable that it's frightening and scary — and only a few people have accomplished that. I'm one of those trying to accept that. One reason I'm doing it is because I'm frightened by it and I'm trying to understand it."
Comments
comments