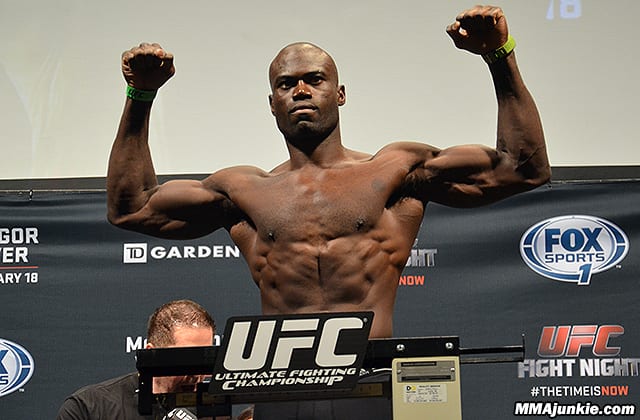 If you cast your mind back a few years to the season of The Ultimate Fighter which featured Chael Sonnen and Jon Jones, you will no doubt recall the word of mouth hype which came from Uriah Hall's performances throughout the six-week stint on the UFC's reality TV show.
Hall, who authored what is generally regarded as the most spectacular knockout on the history of the show when he flatlined Adam Cella with a spinning kick, was heralded by many — including his coach Sonnen — as a future title challenger and someone who could potentially follow in Anderson Silva's footsteps as the most spectacular striker at 185-pounds.
While Hall has had some great results (notably a second round TKO of Gegard Mousasi) he hasn't quite lived up to the billing which preceded his entry onto the main roster — but ahead of being the other man in the cage for what will be the last fight of Anderson Silva's career, he says that he isn't just there to make up the numbers.
"Everybody loves Anderson Silva," Hall's coach, Sayif Saud, told MMA Junkie. "We've all been involved in this sport for so long. Uriah's got a job to do. He's still in the middle of his journey and we're trying to get him elevated and through the rankings. Afterwards, whatever respect and homage we can pay afterwards, and you saw Izzy (Adesanya) do that. Everyone has a lot of respect for Anderson. But when the fight is on, I'm not worried about Uriah's mindset. I think he's focused and ready to go.
View this post on Instagram
"We all go through phases and we all mature at different times and I think me getting Uriah at his age now has been great," Saud added. "He's one of my best students, does whatever I ask. I have not gotten that side of him (that shows mental weakness). As the fans well know, the guy is super talented, but hasn't strung it together to be a champion. But I think he's really matured as a fighter and as a man. I think he's in a really great place and he's been a joy to train and focus and it's everything you want as a coach."
However, with Hall listed as a 3-1 favourite against the 45-year-old Silva, Saud says that neither he nor his fighter are taking the fight lightly and must consider Silva to be the same fighter as he was in his prime when he dominated the middleweight division for years.
"You don't want to fall in that trap where you start to get really comfortable," Saud said. "The guy defended his belt 11 times. It's not like he doesn't know how to win. … That makes it dangerous because a guy like that is not going to want to go off on an L. He's going to leave it all out there and five rounds is a lot of fighting. It's historic to be fighting him for his last fight."
Comments
comments