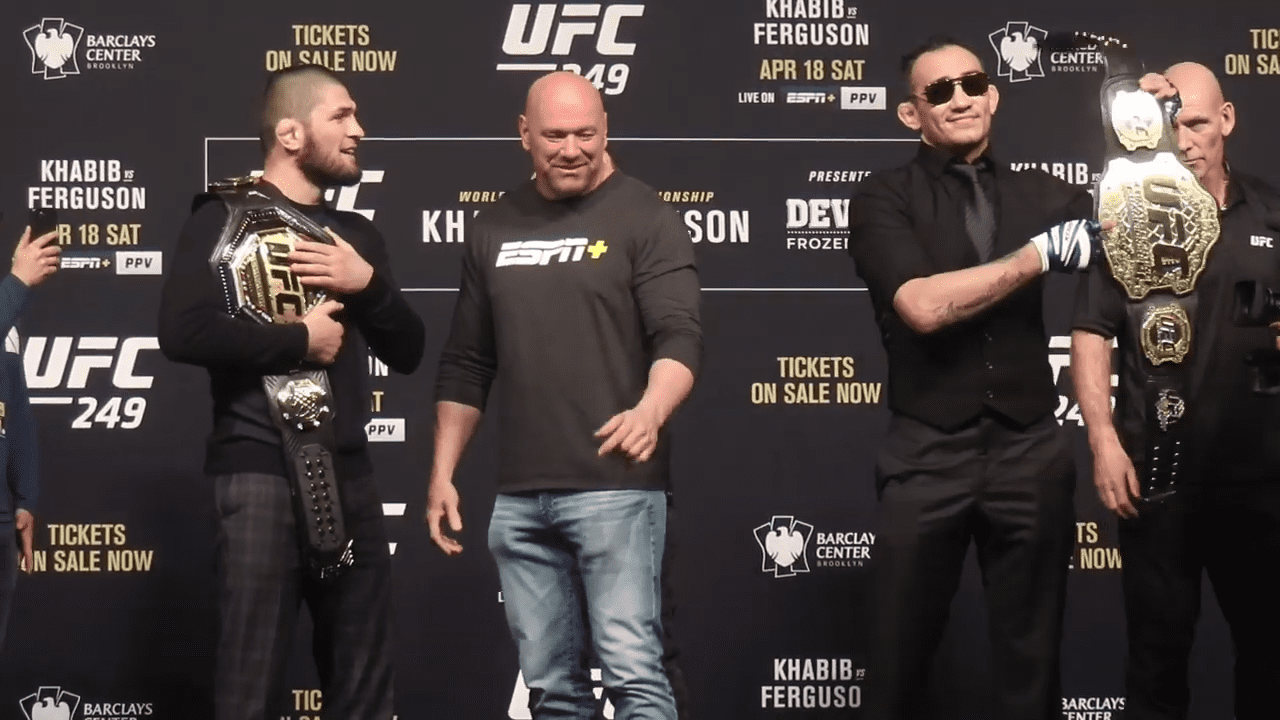 Tony Ferguson doesn't believe Khabib Nurmagodov won't stick to his recently announce retirement, and will eventually return to fighting.
Nurmagomedov retired after UFC 254 last Saturday night, putting to bed the idea of a fight with Ferguson against whom he'd been scheduled five separate occasions. But while fans might be morose at the contest no longer being an option, Ferguson himself believes we will still eventually see their paths cross.
"I completely called it out. I called it out on my post. You guys can see that. I called he was gonna retire," Ferguson said, speaking to Submission Radio. "I mean, Ali Abdelaziz did his job. He kept his client safe, kept him away from very dangerous opponents. I mean, that's what an agent and a manager is supposed to do. Although he is a piece of shit, but I have to say, he did the smart thing. I mean, he avoided me at all fucking costs. I mean, the Russians, they avoided me at all fucking costs. That's fucking awesome.
"So, you know what? I did my job. They ran. Fucking Dagestani ran with his tail between his legs. But you know what, he's off in the sunset. I have to give him props. Go handle your family business, and I'll see you when you get here. Back. Because you're gonna miss it like Conor. So, you know what, I'm calling it out again, he's going to be back. So, I'll be fucking ready."
Since Nurmagomedov's announcement, his position in the history of mixed martial arts has become a point of discussion — something Ferguson wants to put to bed.
"Oh, fuck him, dude. Half of his fights were two-round fights over in Europe," Ferguson said. "And the one thing is, he never fought me. How could you be a pound-for-pound pussy? Yeah, I mean, there you go. Jon Jones, Anderson Silva, Georges St-Pierre, all these guys are much better than Khabib. They've had the titles. Matt Hughes. Look at all these other guys. What, did you forget? It's always gonna be the greatest of all time for five minutes. What the fuck? It's going to be consistently changing."
Comments
comments