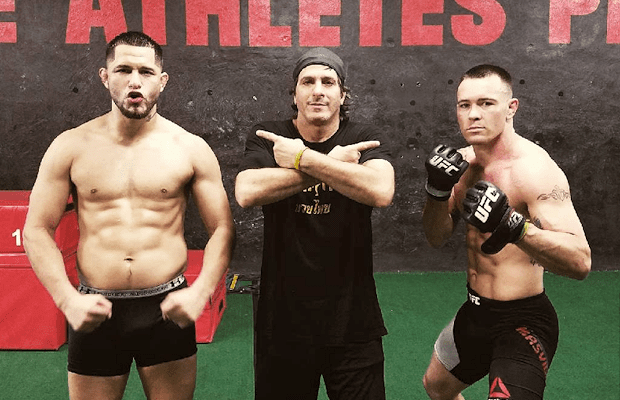 Colby Covington says the UFC are trying to book a fight between himself and Jorge Masvidal in the first part of 2021.
A meeting between the two will be one of the biggest fights at 170-pounds, and could likely secure the next title contender for the winner of Kamaru Usman vs. Gilbert Burns. Despite that, Covington says, Masvidal isn't interested and is playing hardball with the UFC in negotiations.
"I had heard that they had told me that he's scared of the style match-up, the stylistic fight," Covington said, speaking to Submission Radio. "He wants another one, he's looking for something else. So they're gonna try and get him on board, they're gonna try and offer him a lot of money because that's the only way he's showing up, is if he gets a bunch of money to take this ass beating and this losing paycheck.
"They just gotta get him on board, they just gotta do some more convincing. I don't know what his contract is and how much he's gonna make, but he's probably asking for more, and that's the hold-up. So, we'll see when things come to fruition. Hopefully, by the next month or two, the wheels will start turning a little more, we'll get a bit more clarification of when the fights gonna be, where the fight's gonna be."
At the moment, there's no real news on when we could see a meeting between the two, but Covington wants to assure everyone — he's in.
"The UFC has approached me with this fight, and I'm on board," Covington said. "They're just trying to get him on board right now, and there'll only be one reason that this fight doesn't ever happen, it will because he's a coward. That BMF shit goes out the window. You're a broke mediocre fighter, you're not badass motherfucker. Cause badass motherfuckers fight anytime, anywhere, anyone. But you ain't one of those. That's who I am. And if it doesn't happen, there'll just be more excuses from his end. He'll lose a tone of street cred, I know that. He won't be as hard as he thinks he is in the streets. He's nothing more than a pussy, he's nothing more than a bitch. And the UFC wants this fight for the first quarter of next year. If it doesn't happen, there's only one reason why. That's 'cos of the coward, Street Judas Masvidal."
Comments
comments