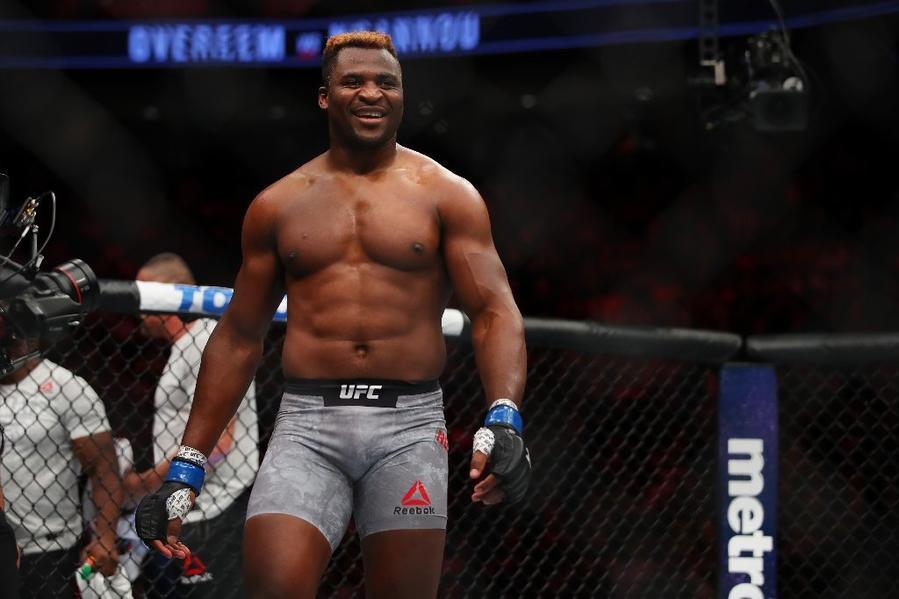 When Francis Ngannou entered into the cage at UFC 220, he did so with about the most amount of momentum a fighter can have heading into a title fight. While few considered heavyweight champion Stipe Miocic to be an easy task, none would have been completely shocked to see Ngannou's hand raised at the end of the bout.
Certainly, that was the outcome Ngannou himself was expecting. Unfortunately for him, however, Miocic's wrestling skill and ability to dodge huge punches meant it was the champion, not the contender, who emerged victorious.
It's a loss that still stings. Ngannou left America to visit his native Cameroon, in part to digest his setback with more privacy than he'd been able to have recently. Not that his trip home necessarily made it easier to take.
"I wasn't good." Ngannou said, speaking on MMAFighting's The MMA Hour. "I was very disappoint for what happen. Seeing what was my mistake for all the fight, the training camp and everything. I was very sad about it.
"I still think about it. But unfortunately I think we sometimes need this kind of thing to learn more, because what I learn on this fight, the mistake that I did, I can't do it again. Because I learn the sight, the impact of everything. I know the signification of everything now."
Part of the failure, Ngannou said, was in his preparation. A late trip to Paris and back, combined with the large amount of media for the hyped contest left Ngannou unable to train as regularly as he would have liked. Add to that the heavyweight champ's now evident toughness and Ngannou's inability to land a decisive, fight-ending blow, and you have some of the reasons why Ngannou feels he's not wearing gold around his waist.
"I think [Miocic] was really tough[er] than I thought," Ngannou said. "But I wasn't surprised, because I didn't hurt him very well. He was very smart, avoid my punches, keep moving. I never thought [I connected well]. I didn't know after maybe that shot he would keep going. He really do a very good job. The first round he keep move, the second round start work.
"Even me, I should do that, but I fuck off the game plan. I'm supposed to go slowly for the first round as well … but for the first round, I just went crazy. I just went really crazy."
That fight is, however, in the past and now it's time for Ngannou to look forward. As is often the way in mixed martial arts, now there's a high profile loss on his record, more opponents seem interested in meeting Ngannou in the cage than before with names like Derrick Lewis and Mark Hunt having made public challenges.
Come one, come all, says Ngannou — although if you're asking him to pick a name, he's thinking a little outside the box.
Derrick has been talking some of his sh*t while I was off . Can someone please let him know that I'm here now, so if he really wants me, he should send his manager to deal with @ufc

— Francis NGannou (@francis_ngannou) March 18, 2018
"Derrick Lewis is number six contender," Ngannou said. "It's not really what I want, but if [that's] the fight that they're going to set up, I'm going to fight him. I'm still looking [to] work to the title shot. … That is exactly my goal. It's up to them what they're going to give me, there's a lot of people out there that want to fight me. I saw Mark Hunt. He'd be a great one.
"By myself, I want Brock. Brock Lesnar. And I heard [boxing heavyweight] Anthony Joshua say he gonna fight in MMA, and if he want to face me. You're welcome man. We gonna do it both sides, in the Octagon and inside the ring. He's gonna get me anyway. … There are three people who want me, and then who I want. The other three want me, — me, I want Brock."
Of course, Lesnar is currently working for the professional wrestling promotion WWE, although it's known his contract is expiring shortly, and he's been in talks with UFC president Dana White. While the former heavyweight champion is a shrewd negotiator, it's believed he has a genuine interest in returning to the cage.
Certainly, if he does, Ngannou will be first in line to welcome him.
"I like the fight," Ngannou said with a smile. "I dunno if you've ever seen this guy, he look very, very big and strong. And I really want to try that.
"I just want to tell him, 'please Brock, come back. Come back my friend. We need you here, we need you to put some fun in this division. I need you to give me my fucking fight I've been waiting for a long time. I've been dreaming for'."
Comments
comments