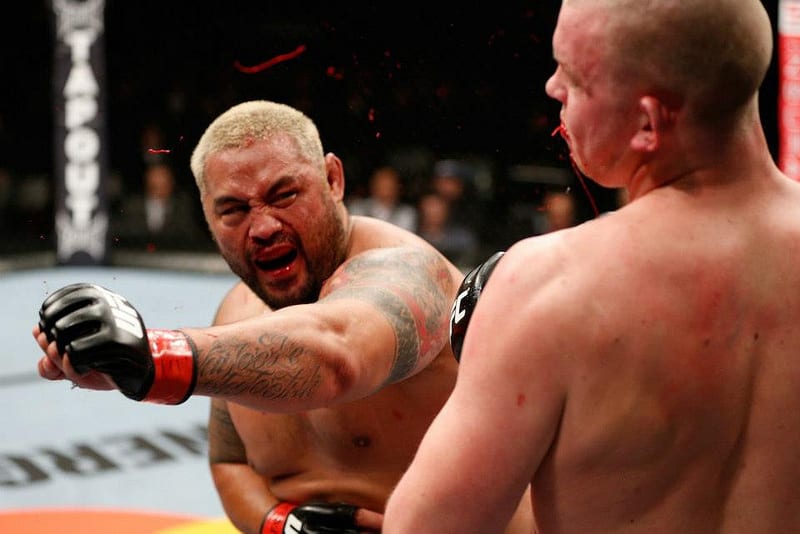 Ever since his loss to Stipe Miocic in Boston earlier this year, Francis Ngannou has found his name in the mouth of more UFC fighters than ever before. First, Derek Lewis has continued his quest to meet the heavyweight contender in the cage, and now Mark Hunt's joined in.
Hunt was last seen in a losing effort to Curtis Blaydes in Australia, having been largely outwrestled by the younger man, but still deems his name value as enough to fight a man a few positions above him in the rankings. Combine that with having just two fights on his current UFC deal — something Hunt continues to claim will be his last agreement with the promotion — and the 'Super Samoan' is determined to fight up, not down.
"We're looking to see if I can get Ngannou for August in Hawaii – that'd be great," Hunt said, speaking with Sporting News. "Ngannou would be good for me, or [Alexander] Volkov, who just beat Fabricio, if he's still available.
"I'm just trying to get someone higher than me. I've got two fights left, so I'm seeing if I can get Ngannou. I don't know if they've confirmed Hawaii, but it'd be a great match…see who shoots for the takedown first. I've already asked for a top five guy before, but they didn't give me anything, so I'm worried about what they're gonna do.
"I fought a guy that was beneath me last time, so I want someone higher now," he continued. "Even Werdum, I want that rematch, but Ngannou would be a better match. Even give me Blaydes again and I'll have another shot at him."
Part of Hunt's frustration comes from the UFC rankings, a system that's based on the vote of a number of journalist. As of Monday morning, Hunt's ranked at five in the heavyweight division alongside Derek Lewis, a man he defeated last year.
"It's weird. I'm equal fifth with Derrick Lewis, how does that work?" Hunt said. "That's rubbish. They got it wrong. These people doing this have no idea – how can you have equal numbered fighters? It just doesn't work like that.
"It's supposed to be number one and number two getting closer to title shots, but they're just giving anyone who wants one a title shot."
Comments
comments