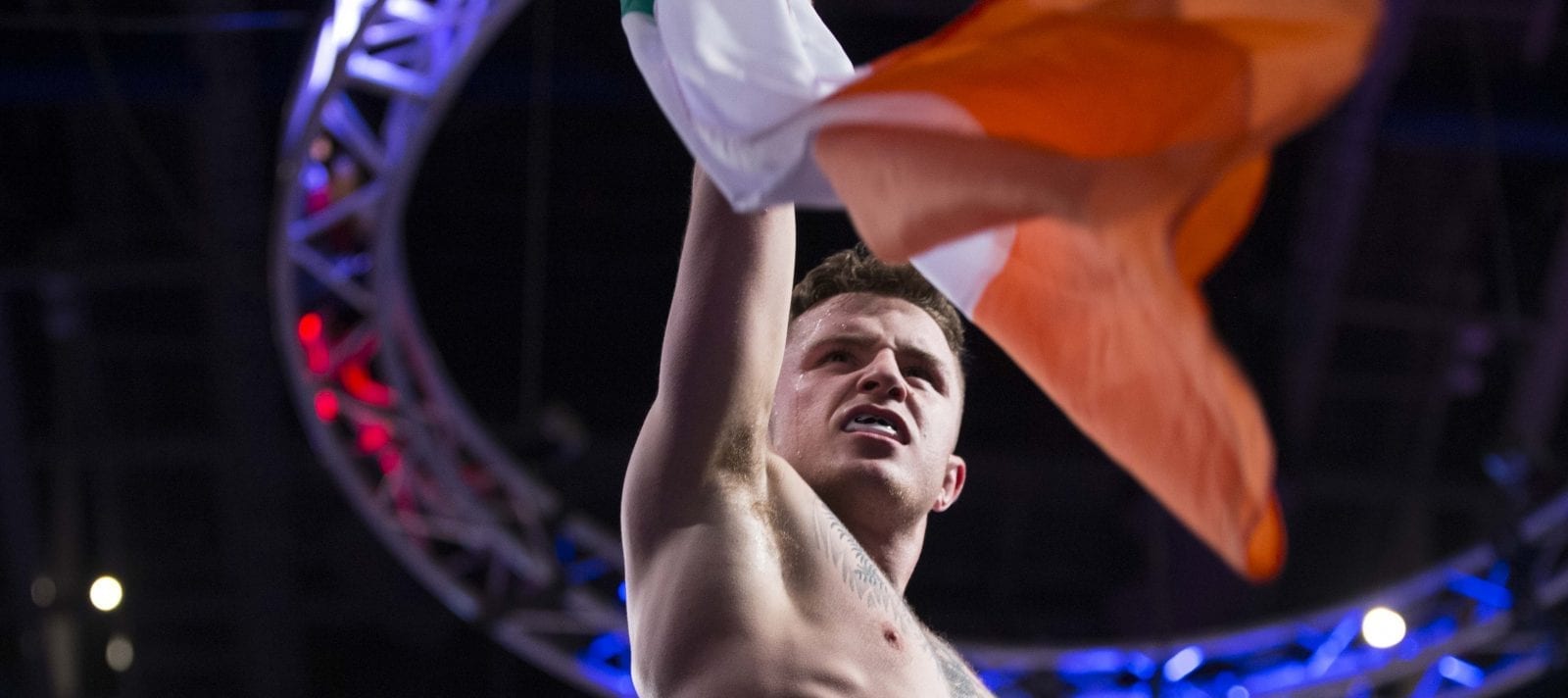 Almost exactly one year ago today, the then 19-year-old James Gallagher inked a deal with Bellator to compete in their 145-pound division.
Twelve short months and three wins later, the SBG man has become one of the promotion's most bankable athletes. His last two performances, submission victories over Anthony Taylor and Kirill Medvedovsky, served as unofficial main events for Bellator events in Dublin and Belfast so it was no great surprise then that when Bellator announced they were holding their biggest ever event next June in Madison Square Garden, Gallagher's phone lit up soon afterwards.
"I was meant to fight in London", Gallagher said in an exclusive interview with TheMacLife.com. "They had an opponent for me, I was just waiting for my contract. Then I saw the MSG card and was like, 'hang on, wait a minute'. I've basically headlined two shows and now they're running the biggest show they've ever run, they can't do that without me. I headlined both the shows here, I pulled the crowd and I sold those shows out. I asked for it and Bellator said it was no problem."
"There's a big difference fighting in Madison Square Garden than there is fighting anywhere else. Mike Tyson's fought there and I'll be one of the youngest to ever fight there. No one in MMA has done this at my age, especially in Ireland. It means the world to me but at the end of the day, it's another fight and there's someone in my way. No matter where it is I have to beat this guy".
Gallagher's rise through the ranks of professional mixed martial arts has been meteoric. At just 20 years of age, the Strabane native has cultivated a huge following both in Ireland and abroad and, Gallagher says, he has proven himself to be a commodity for Bellator.
"We understand each other", Gallagher said of the promotion. "I know what what Bellator wants from me and they know what I want, so we meet in the middle somewhere and it all works out perfect. There's no bullshit, it's just straight."
Given that Gallagher has been earning his combat apprenticeship since he was in his young teens, he has seen it all when it comes the empty promises that sometimes come hand-in-hand with the fight game — something which is refreshingly absent from his dealings with Bellator.
"I've been there, I've been caught in the middle of bullshit so now it's nice to be just fighting. It's nice to know where we stand."
On June 24th Gallagher will face the biggest test of his young career when he faces Chinzo Machida, a fighter who has been training in martial arts since before Gallagher was born. Prior to the booking, Gallagher says that Bellator had given him no impression that they were considering pairing him with Machida but it was a challenge that he accepted with open arms and, as he noted, there is a strange sense of symmetry to this particular fight.
"When I first watched MMA, I was into karate. Lyoto Machida was UFC world champion and no one could touch him, so I said to myself 'I'm going to do that'. In his corner he would have had his brothers, his father and I watched them all. I admired what they had done and now here I am fighting one of them. Work until your idols become your rivals.
"I've got respect for him but make no mistake, I'm going out there to put him away. It's not like I'm going out here to shake hands with this guy. I respect him but he's in my way.
"I know the style. He's very experienced at that style, so I'm not going to play him at his own game. I'm going to break him down, break the rhythm and catch him on the half beat. I'm not going in there to do karate with him, he's been doing karate for 40 years. I'm only 20 years old, I haven't even been on this planet that long. When I get the time of my techniques as you saw in my last fight, it works. It doesn't matter if it's the best boxer in the world, if I get the right timing on those shots it's going to work."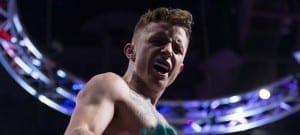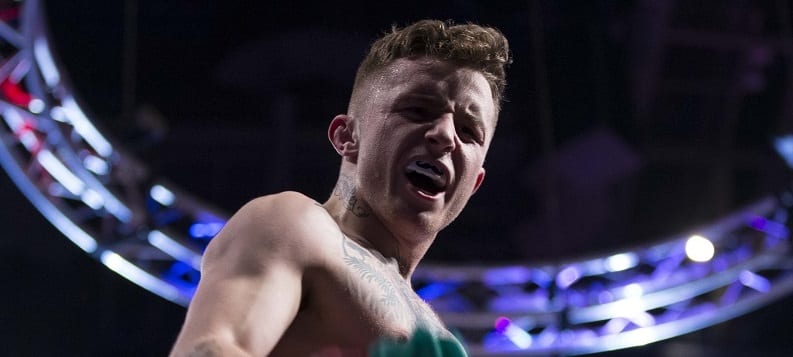 Gallagher's most recent effort in the cage was arguably his most complete performance to date. Israeli fighter Kirill Medvedovsky came into the bout with a significant grappling pedigree but was out-struck, taken down and submitted less than three minutes into the first round inside the SSE Arena in Belfast, Northern Ireland last February.
Many observers noted the ease in which Gallagher transitioned between striking and grappling during that fight. At one point, he threw (and landed) a flying knee — a technique which is often kept by fighters in reserve, given the fact that it leaves the attacker vulnerable to a takedown. Gallagher pays this no heed, however. If he's put on the ground, that just opens up a whole new range of his attacking arsenal.
"I wouldn't call it a 'Plan B'", Gallagher says of his constantly improving stand-up game. "My plan is to finish him, that's 'Plan A'. So if I clip him and he goes down, happy days. If not I'm going to take him down and choke him. I'll be prepared everywhere. It's all 'Plan A'. I'm going to put in the strikes, take him down and choke him; it's all going to help each other out."
Immediately after his win in Belfast, Gallagher threw down a gauntlet to fellow undefeated Bellator featherweight A.J. McKee who had been cultivating a potential rivalry with Gallagher via social media. Gallagher's message for McKee, and everyone else in Bellator who he sees as taking shots at him, is a blunt one: "They're all focused on me and I'm doing exactly what they're doing, I'm focusing on me too. I feel like I'm in the driving seat and they're in the boot screaming to get out. I don't need to fight any of them, they're nothing.
"I'm not a world champion yet. Why do they want me? Do you not want to go for the champion? That's what I'm doing, I'm not going after A.J. McKee or any of these dopes, I'm going after the champ and I'm going after this guy who's in front of me on June 24th. I feel like they'll be easy fights because they're not focused on the bigger picture, they're too focused on me."
In early April, Gallagher will trade the mats of Dublin for those his SBG teammate Gunnar Nelson in Iceland. Nelson is one of the foremost karate practitioners in mixed martial arts and will serve as the ideal training partner to prepare for Chinzo Machida but there are other reasons for removing himself from the comforts of home, family and friends in the build-up to the biggest fight of his life.
Fighting, and all that comes with it, can be a predominantly selfish endeavour and Gallagher says that he is thankful to have a family and girlfriend who accept and understand what he is required to put himself through to be in peak condition.
"You have to surround yourself with people who accept that and give you the courage to do that", he says. "The first thing I'll be doing [each day] is waking up and preparing for battle. That's all that's going to be on my mind. I'm going to push myself into a different mindset and prepare to kill this motherfucker. I'll be the strongest James Gallagher you've ever seen, mentally and physically, and then I'm going to walk out there in Madison Square Garden and not give one fuck about them all and go out and destroy this fella.
"I'll go to Iceland, do five weeks there and come back here and I'll be in full-on shape when I get back. I'm a very focused guy, nothing really phases me but I feel like I need to get away for this one. It's the biggest thing I've ever participated in in my life. It's not just the biggest fight of my life, it's the biggest thing I've ever done in my life. I'm going to take my mindset to a different level.
"I feel like I'm unbreakable at the minute but when I come back he's going to need a samurai to finish me."
Comments
comments