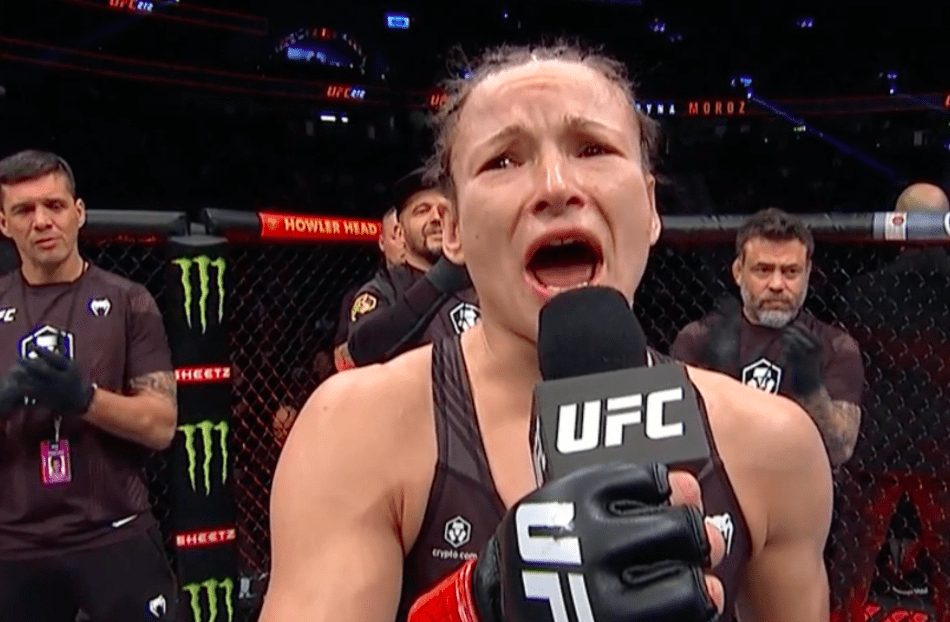 While there was a lot on the line for the cast of characters at last weekend's UFC 272, no one on the card had quite the same mix of emotions as Maryna Moroz.
The Ukrainian flyweight secured the eleventh win of his career, and her third on the bounce, with a second round arm-triangle choke against Mariya Agapova, and used her time on the mic afterwards to deliver a tearful and impassioned speech about her home country following its invasion by neighbouring Russia.
Speaking to reporters after the fight, Moroz elaborated on her post-fight comments and spoke of the emotional whirlwind she has experienced for much of the past two weeks as she prepared for her latest Octagon outing.
"I have a lot of pressure," said Moroz. "All this week I feel nervous, I cried. I tried to focus. Many people don't know, but it was really hard for me. I see in Ukraine how terrible the situation is. It was really my heart almost crying. But I did it. I focused, and I did fight."
Moroz, who trains the Ukrainian Olympic boxing team, has spoken of the Russian invasion on several occasions on her social media, detailing how her family have been preparing Molotov cocktails on their farm, as well as taking in soldiers and helping to feed them with produce from their farm.
"Thank you everyone for messaging me, for supporting me," Moroz said. "This week was hard for me. I am wanting to cry."
Comments
comments