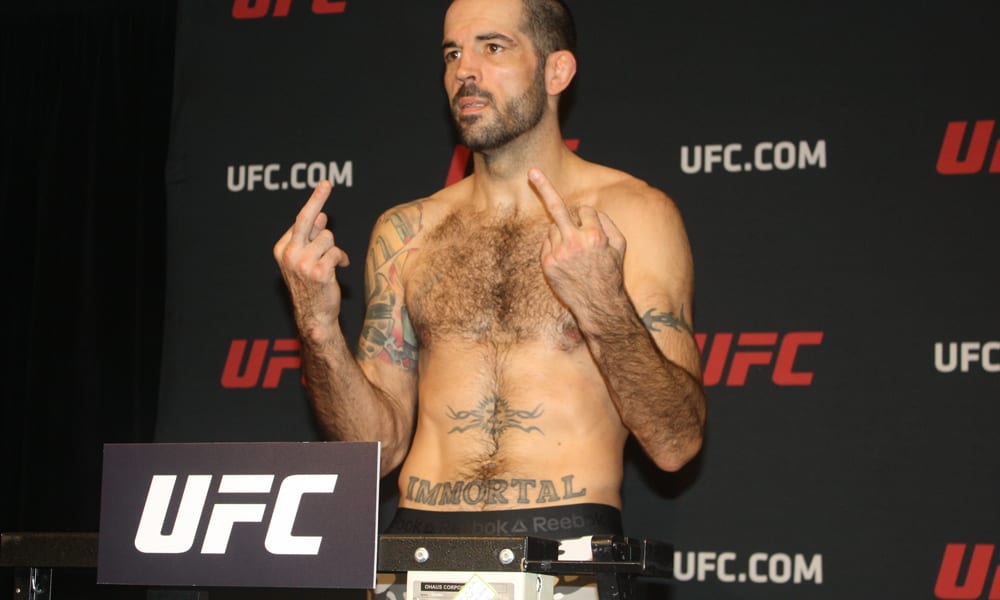 Throughout his 42 fight career, Matt Brown has garnered a reputation as being someone that it's best not to mess around with. 
The welterweight veteran has provided some of the UFC's more memorable knockouts over the years, many of them delivered by way of the fearsome elbow strikes for which he is perhaps best known for. Not only that, his unique no-nonsense style has given him the aforementioned reputation as being someone that it's best not to cross — particularly while he is cutting weight.
However, several years ago one unnamed person opted to disregard this particular advice while he was getting ready to step on the scales ahead of one of the most pivotal fights of his career.
"I go in, get weighed in, half-pound over," Brown said to The Fighter and The Writer podcast, as noted by Bloody Elbow.
"While I'm sitting in the back, this guy comes up, posing as one of the doctors there. And he said, 'Yeah, I've seen you out there, I've seen you cutting weight…' And he said, 'You can't cut no more weight. You need to rehydrate.'
"I was like, 'OK, if I have to, you're the doctor telling me.' He's like, 'I'm not gonna let you cut no more weight.'"
However, as Brown began to take in more fluids he was approached by Dana White.
"Dana comes over, like, five minutes later and he goes, 'Hey, did somebody just tell you not to cut weight?' I said, 'Yes, some doctor.' He goes, 'That dude's not a doctor. I don't know who that guy is.' I guess he had told somebody else that missed weight also.
"We meet with Dana in the back and I said I can still go cut the weight. I just put on an extra two or three pounds with this water. And he said, 'Don't worry about it, we're not taking your 20%. Robbie (Lawler) was there, he was cool with it.' And that was that."
Brown ended up registering a weight of 172.5 pounds on the scale for what was a welterweight title eliminator against Lawler — the only time he missed weight since he began his career in 2005.
"I'm a professional, I'm gonna make the weight, guaranteed. I've never missed weight in any other time of my life."
Comments
comments