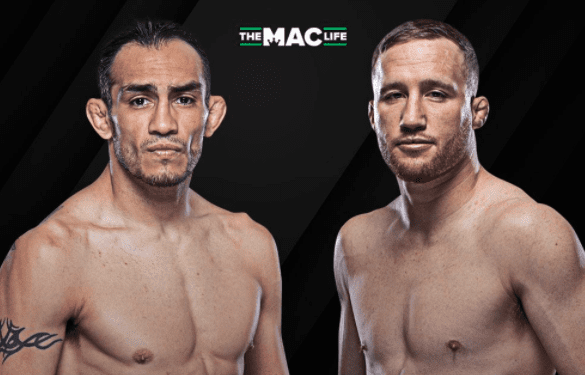 While there has been no official confirmation from the UFC that next month's scheduled fight between Khabib Nurmagomedov and Tony Ferguson is officially cancelled (again), reports online suggest that organisation's matchmakers are working to hastily arrange a short notice fight between Ferguson and Justin Gaethje in its place.
Nurmagomedov cast doubts on the possibility of the fight with Ferguson taking place due to him being stranded in Russia amid a travel lockdown to curb the spread of the coronavirus, which makes it unlikely that he would be able to travel to the host country for the UFC 249 card, which has yet to be revealed. He also stated that he had heard that the UFC was searching for alternate opponents to face Ferguson and, per a report by Ariel Helwani, that slot may just go to fellow 155-pound fighter (and managerial stablemate) Justin Gaethje.
Helwani reports that the UFC are still intent on holding the April 18th card even without Nurmagomedov's participation and that initial inroads into Ferguson vs. Gaethje have been made. However, neither fighter has as of yet agreed to the contest.
Should the UFC push ahead with the event it is understood that the most likely location will be the United States, with Florida repeatedly touted as a possibility in the press. Due to the current coronavirus situation, that card would have to take place with fighters already based in the United States.
Speaking on Instagram Live early on Monday, Nurmagomedov outlined his predicament with regard to his inability to travel.
"So now I am hearing that they are looking to organise it with or without me," he said via RT Sport translation. "OK, go ahead. Everyone should follow the laws. I am not against it, I know that fighters need to feed their families and pay their bills. I know how hard it is for the fighter. Unless they fight they aren't getting any money.
"I am even hearing that they are looking for an opponent for Tony, because he is in the States and I am here in Russia. But I am here not on my own will."
You can expect to hear more about this developing situation soon.
Comments
comments