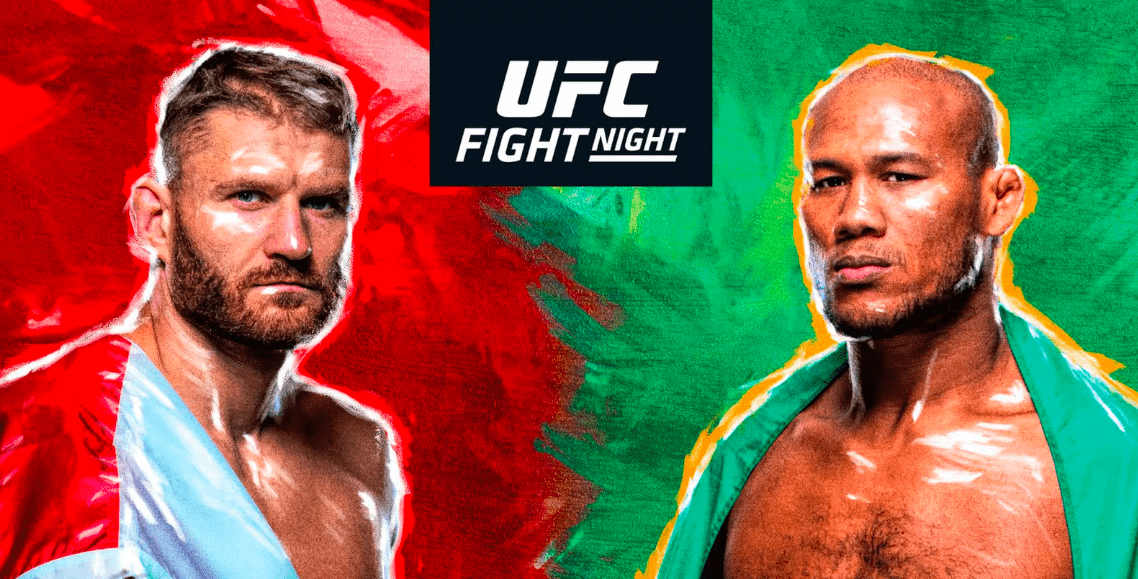 Saturday night will see the UFC take their travelling roadshow to Sao Paulo once again for a card topped by Ronaldo 'Jacare' Souza's debut fight at 205-pounds against a fighter who has never loomed closer to a title shot, Jan Blachowicz. 
Souza, 39, comes into the fight in mixed form. The Brazilian submission specialist has alternated wins and losses throughout his previous six fights, most recently losing by decision to Jack Hermansson in April — just months after he scored a sensation TKO win against Chris Weidman a year ago. As has become a common theme in mixed martial arts lately, Souza will become the latest 185-pound refugee to try his hand in a higher weight class where he will immediately become one of the division's more potent submission threats.
Standing opposite him, Poland's Jan Blachowicz has seen this all before. The former KSW light heavyweight champion earned the fourth win in his last fives fights when he landed a stunning left hook on Luke Rockhold, in what was his first fight at 205-pounds following a move up from middleweight.
The opponent is different, but Blachowicz contends that the result will be similar.
As for the weigh-ins, both main events tipped the scales without much trouble to register their contracted weights, as did the combatants in the co-main event where Brazilian legend Maurico 'Shogun' Rua will face off with Scottish fighter Paul Craig.
Isabella de Padua, meanwhile, who stepped in on hours' notice to fight Ariane Lipski after original opponent Veronica Macedo withdrew could only manage 130.5 pounds for the flyweight bout. Lipski, meanwhile, successfully made weight at 125.5. Tracy Cortez and Vanessa Melo also both missed weight but because they both registered 136.5 pounds the fight will go ahead as planned, as both misses essentially cancel each other out.
The full UFC Sao Paulo weigh-in results are:
MAIN CARD
Jan Blachowicz (205) vs. Ronaldo Souza (205)
Paul Craig (205) vs. Mauricio Rua (206)
Jared Gordon (156) vs. Charles Oliveira (155)
Antonio Arroyo (185) vs. Andre Muniz (186)
Markus Perez (186) vs. Wellington Turman (186)
PRELIMS
James Krause (170.5) vs. Sergio Moraes (171)
Eduardo Garagorri (145.5) vs. Ricardo Ramos (146)
Bobby Green (156) vs. Francisco Trinaldo (155)
Warlley Alves (171) vs. Randy Brown (171)
Renan Barao (146) vs. Douglas de Andrade (145)
Isabella de Padua (130.5)* vs. Ariane Lipski (125.5)   —  de Padua missed weight
Tracy Cortez (136.5) vs. Vanessa Melo (136.5)  —  both fighters missed weight
Comments
comments