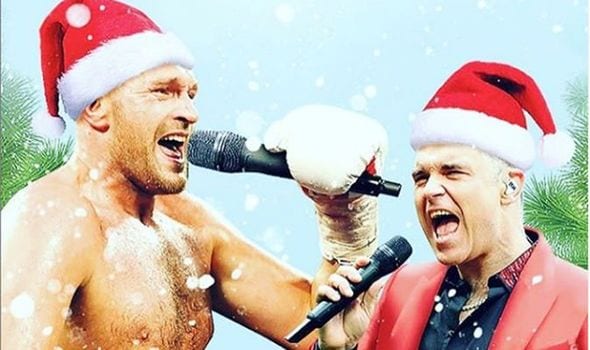 Tyson Fury has been everywhere this year.
He's been in the boxing ring, grappling in the wrestling ring, flirting with the mixed martial arts age, and now he's just left the recording studio.
The charismatic boxer has done a Christmas song with English songster Robbie Williams titled 'Bad Sharon'. The tune, which has just been published to YouTube, tells listeners to ignore life's misgivings and enjoy themselves over the festive period.
Lyrics include gems such as, "You know the score, As soon as you sink that shot, there'll be one more, As sure as your face hits the floor" and "Put on your glad rags, Go get off your face."
Naturally, it also ends with Fury saying his usual phrase "Dosser."
Check it out below:
Since defeating Otto Wallin earlier this year, Fury has been sitting on the sidelines as a huge gash he suffered in the contest heals up. Not content to be idle as he waits for a February rematch with rival Deontay Wilder to materialise, the boxer has been enjoying his time, and has recently published an autobiography.
Wilder is set to meet Luis Ortiz in a title defense next weekend in Las Vegas, and should he emerge through that bout unscathed, a Fury clash is believed to be scheduled for Feb 22. It will likely be one of the biggest fights in 2020, with their first meeting being a 12 round epic that saw the judges ruling it a controversial draw.
The scorecards read 115–111 for Wilder, 114–112 for Fury and 113–113. Following the result, many fans went online to argue Fury had been done a disservice, and had incorrectly been denied the win.
After Anthony Joshua's stunning defeat to Andy Ruiz earlier this year, Fury and Wilder are the two remaining undefeated heavyweights at the top of the division, and whomever leaves February the victor will likely be branded the best current heavyweight in the world.
Comments
comments