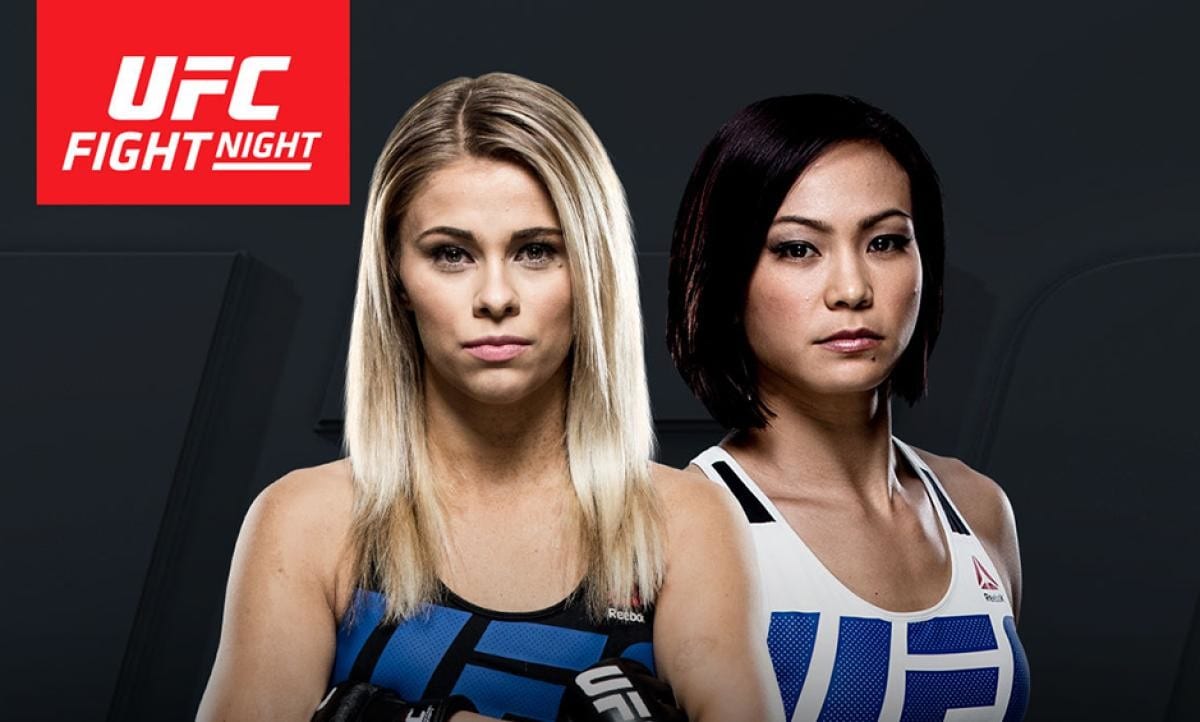 With UFC 206 a night of brilliant fights, the UFC have quite the act to follow. This Saturday, they'll be attempting to do so with four brilliant fights, three of which contain hugely promising talent.
Here we look at the four bouts on the main card, and try and work out who could be walking away with the upper hand.
First up, in the main event…
Paige VanZant vs. Michelle Waterson
Headlining the card is Paige "12 gauge" VanZant and the "Karate Hottie" Michelle Waterson. 
Interestingly VanZant, for the prospect she is, has yet to show any real consistent sense of her own polished fighting style. In her win over Felice Herrig, VanZant was mostly a grappler, and one prepared to make the fight gritty in order to gain victory. But then most recently in her showing against Bec Rawlings, she was a far more flashy and elaborate striker, earning the win with one of the years most spectacular knockouts.
However, the main factor in this fight could well be size.
Waterson made her best run to date as an atomweight fighter, ruling Invicta's division until finally coming over to the UFC. The majority of her biggest successes have been at 105-pounds, and as such, VanZant will have the height and reach here.
Don't be surprised it that's the difference maker.
Pick: Paige VanZant
Sage Northcutt vs. Mickey Gall
This is it lads, this is the one we're all here to see. The future of the sport meeting already. The Ali-Frazier of 2016. Destined to be linked to each other from the moment they touched gloves.
Well, maybe I'm getting ahead of myself there.
What is undeniable though, is that the UFC are putting two blue chip prospects in to face each other relatively early on in their mutual careers. Both are alumni of Dana White's show "Looking for a Fight" and the entire affair has drawn considerable interest around two lads yet to hit 25.
Gall's career, odd as it is, feels as if it's hiding an unseen secret. A brown belt at 24-years old, it does seem that despite his bizarre UFC introduction, he could actually be a legitimate talent. Sage on the other hand, has proven without a doubt that he is an incredible athlete, there is a sense that the 'talent' portion is still being put together.
Sage could well have the advantage in the early stages, being faster and beating Gall to the punch, but eventually Gall's quantifiable skills on the ground are going to come in to play, and they will should be far better than any defence Northcutt can offer.
Pick: Mickey Gall
Urijah Faber vs. Brad Pickett 
In what is set to be his final mixed martial arts appearance, Urijah Faber gets to fight in front of his home town and go out in a blaze of glory. In front of him is Englishman Brad 'One Punch' Pickett.
Faber's retirement comes at the right time. His skills have begun to decline and his style has started to become outdated. But while Pickett does have the ability (and one punch power) to defeat Faber, the California Kid still has one left in him, and he'll find a way to get the victory for his swan song in front of his hometown crowd.
Pick: Urijah Faber
Alan Jouban vs. Mike 'Platinum' Perry
Mike Perry has one of the most basic, but exciting styles that it's possible to have. Namely, does his chin outlast yours?
While Alan Jouban could turnout to be a step up in competition for Platinum, it seems as if Perry's odd tattoo choice and outlandish comments could take away from the fact that he might be a very skilled up and comer. Look for him to defeat Jouban with a finish, and then call out the winner of the main event.
Pick: Mike Perry
Comments
comments