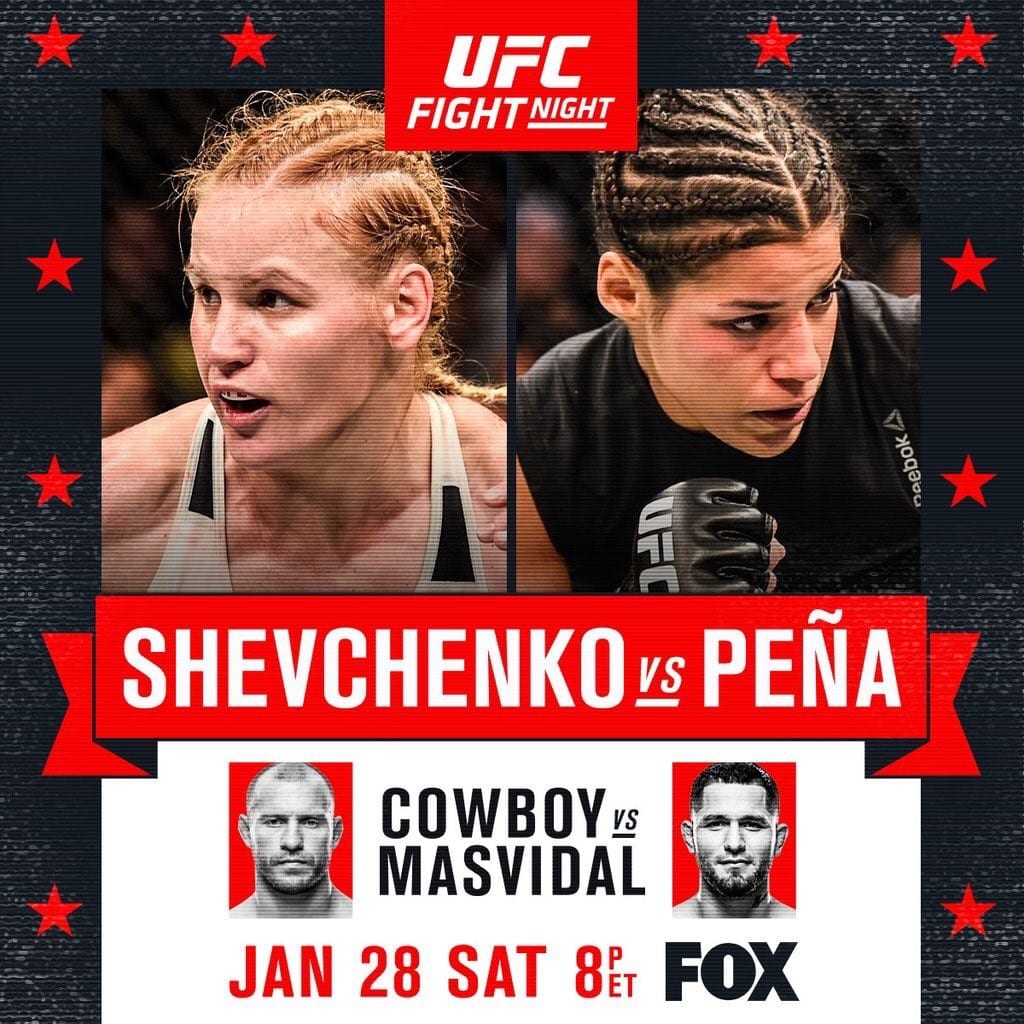 This weekend the UFC are returning to 'where it all began' in Denver, Colorado with UFC on FOX 23.
Headlined by a main event with hugely competitive fight with title ramifications, and a co-main not far off the same status, UFC Denver has plenty to offer interested fans. With that said, let's take a look at the main card and examine who could walk away the winner come Saturday night.
Valentina Shevchenko vs. Julianna Peña
In the main event, bantamweight contenders Valentina Shevchenko and Julianna Peña will face off to decide who will likely go on to see Amanda Nunes in her next title defense.
As if to show the increasing talent in the UFC women's 135-pound division, this is a tough bout to choose.
While Shevchenko, the kickboxer, has managed to succeed against bigger opponents in the past, but against Peña comes across a larger athlete who knows how to use her size and strength as well as anyone in the division.
In all likelyhood, the fight will be decided on who can dictate where it takes place. But, while Pena could find success early on and get the takedown to use her grappling, the fourth and fifth rounds could prove to be where the fight is won.
Shevchenko has shown she can keep her performance immaculate until the very last bell rings, while Peña has yet to go 25 minutes in her career. Because of that, look for Peña to potentially begin tiring towards the second half of the bout, and her grappling to become less and less effective as Shevchenko turns up the heat.
Pick: Valentina Shevchenko
Donald Cerrone vs. Jorge Masvidal
In the co-main event, an emerging grudge match will be held in the welterweight division.
Jorge Masvidal seems to have taken a personal affront to 'Cowboy' Cerrone's recent success at 170-pounds, and has taken every opportunity to call him out for the fight. After Cerrone dispatched of Matt Brown at UFC 206; he got his wish.
It's an interesting style match up, and the two are quite similar in a few respects. Because of that, some suggest he could be Cerrone's biggest challenge in his new weight class.
But while Masvidal could well prove to be a difficult task for Cerrone to overcome, particularly when forwards pressure seems to be something with which Cowboy struggles, it seems we're dealing with a different Cerrone these days.
Since the Dos Anjos loss, Cerrone looks to be more confident and comfortable with fighting every time he shows up to do so. As someone who has long been criticised of not being able to mentally handle the pressure when the stakes get to their highest, the dos Anjos loss and subsequent move to 170-pounds appears to have revitalised his attitude to the game, and the Brown fight showed he isn't ready to fold.
Pick: Donald Cerrone
Andrei Arlovski vs. Francis Ngannou – Ngannou
Old school meets new school in the heavyweight division as UFC long-timer Andrei Arlovski meets 4-0 Francis Ngannou. When Ngannou fights, the damage he causes is as every bit as scary as he appears, and with Arlovski on a diminished run after a brief resurgence, logic suggests that the younger Ngannou will prove himself a rising force here.
But, as we all know, when you have men weighing 265lbs and gloves weighing 4oz…
Pick: Francis Ngannou
Alex Caceres vs. Jason Knight
In the cards opener, Alex Caceres looks to bounce back after his slim judges defeat to Yair Rodriguez by defeating The Ultimate Fighter season 22 athlete, Jason Knight.
While Knight is currently 2-0 in the UFC, it's fair to say that Caceres has the experience and the record on paper that puts him as the favourite. He could well open the main card with a special performance here.
Pick: Alex Caceres
https://www.youtube.com/watch?v=aBFsGxDobxs
Comments
comments