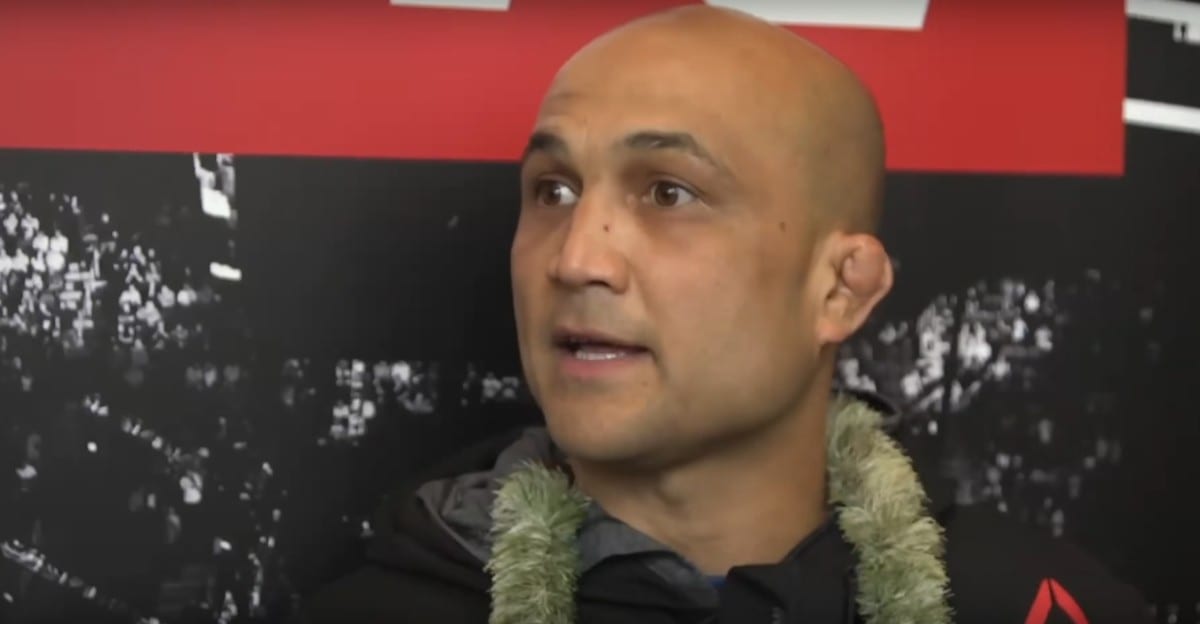 On the evidence of last night's showing at UFC Oklahoma it would take the most ardent of B.J. Penn apologists to suggest that the legendary Hawaiian fighter hasn't experienced a profound decline of the skills which led him to world titles in two separate weight classes.
Penn came up short in a majority decision loss to Dennis Siver in the opening bout of the main card in the Chesapaeke Energy Arena on Sunday night in what was his 12th career loss (and fifth in succession), appearing second best to German kickboxer Dennis Siver. Despite dropping Siver towards the end of the second round, Penn was unable to effectively capitalise and unleash the predatory finishing skills which defined the early parts of his fight career.
Siver turned up the heat in the third, neutralising Penn with a salvo of strikes and leg kicks en route to a deserved decision victory.
Following the loss, Penn will likely hear repeated calls for him to step away from the sport. In preparation for this fight, Penn returned to the strength and conditioning regimen designed by the famed Marinovich brothers, Marv and Gary, with whom he had worked during his UFC lightweight title reign, though even that wasn't enough to recapture the competitive drive which appears to have withered from 'The Prodigy'.
With just one win going back as far as late 2009, it's difficult to see any semblance of relevancy for Penn in this new era of the UFC — but, despite the less than successful latter day performances in the cage, he will always be remembered for being one of the most exciting, naturally gifted fighters to ever set foot in the octagon.
Oklahoman fighter Johny Hendricks, meanwhile, who has missed weight in three of his last four bouts, suffered his first defeat at middleweight after being TKO'd by Tim Boetsch under a minute into the second round. Hendicks, a former UFC welterweight champion, is another fighter whose latter form has been less than exemplary but a win in his 185-pound debut against Hector Lombard suggested that he might once again put some wins together.
It wasn't to be.
A headkick followed by strikes to a turtled Hendricks was enough for the referee to call a halt to proceedings. Hendricks' strategy appeared, as ever, to be to look for his powerful left hand at every opportunity, though Boetsch remained the busier fighter, peppering Hendricks with jabs and low kicks throughout.
Hendricks has now lost four of his last five and, coupled with his weight issues, it would likely be true that the former champion's place on the UFC roster is on very thin ice indeed.
Comments
comments