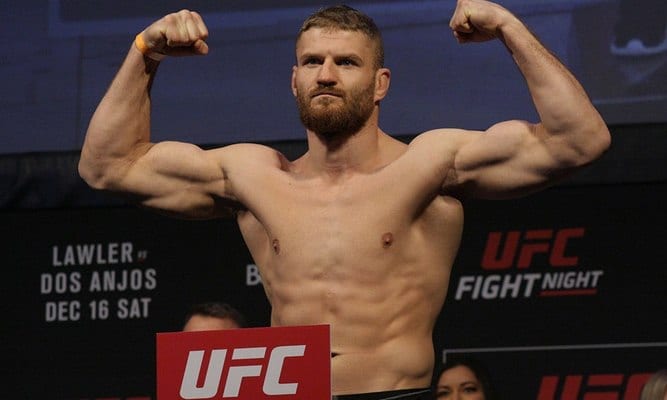 Jan Blachowicz, the first man not named Jon or Daniel to hold the UFC's light heavyweight crown in the past decade, certainly hasn't taken kindly to Corey Anderson's assertion that he is the finest 205-pound fighter on the planet.
Former UFC man Anderson booked his place in the finals of Bellator's light heavyweight grand prix with an impressive finish of former dual-champ Ryan Bader in the semi-finals last weekend. Afterwards, Bellator chief Scott Coker suggested that the winner of the tournament could rightfully be considered as the best in the world — with Anderson going further, saying that this is a role he already occupies.
Blachowicz, who knocked Anderson out last year in what was his final UFC fight, disagrees — and explained exactly how on The MMA Hour.
"I just want to put him to the ground, again," Blachowicz said to Ariel Helwani, also referencing their first meeting which Anderson won by decision. "The difference between me and him is when I lost the fight, I don't quit, because I'm not a quitter. He lost the fight and he quit. He let it go.
Hold up… So a guy who bolted from the UFC after I've slept him and almost made him retire, got a couple of wins in the 2nd league and claims he is the best?

Maybe I've punched him to hard… No class in win or defeat Corey. There's levels to this. 🤦‍♂️

— Jan Blachowicz (@JanBlachowicz) October 18, 2021
"Maybe the pressure was too big for him, and he went somewhere else, to the second league, and now he's talking, or barking. C'mon, I don't understand that. Why doesn't he stay in the UFC? He can renegotiate everything right now, money and stuff like this. No, he's just a coward and quitter.
"That's why he's doing this. Now he's safe over there, because I'm not over there. … I think that's why he started barking."
Blachowicz has been in stellar form recently. He was an unlikely contender for UFC gold after Jon Jones vacated the title last year but more than earned it in a vicious performance against Dominick Reyes, underscoring that even further by becoming the first man to beat Israel Adesanya in his next defence.
But as far as Anderson's statements go, the Pole says that both of them know the truth.
"Before he goes to sleep, he knows he's a quitter and a coward, because he left the champion's league," concluded Blachowiz.
Comments
comments