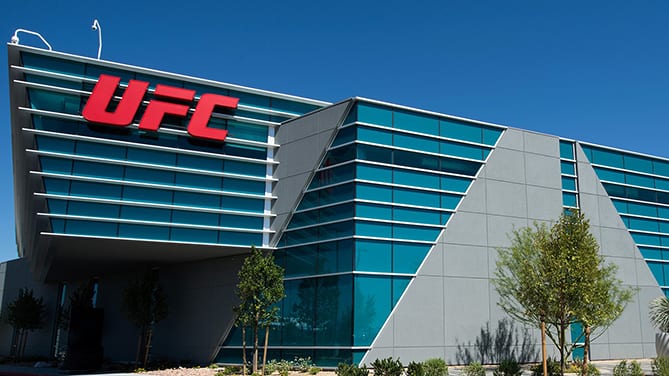 The UFC's Performance Institute in Las Vegas is going to have a baby brother.
Reports today state that the UFC is making a significant investment in the growth of mixed martial arts in Asia by by building a 93,000 square foot, $13 million performance institute in China. By contrast, the institute which currently exists in Las Vegas is around the 30,000 square foot mark.
The new institute will be officially announced at this weekend's UFC event in Shanghai.
The idea of the institute is that of talent development and talent maintenance. Scholarships for athletes to train at the institute will be made available, while any member of the UFC roster will be entitled to visit and make use of its facilities free of charge.
"I could not be more excited about the UFC Performance Institute opening in Shanghai," UFC president Dana White said of the institute in a statement. "We know there is a ton of talent throughout Asia and now we will be able to find them and offer them all the incredible training, nutrition, and physical therapy that UFC fighters are getting in the Performance Institute at our headquarters in Las Vegas, right there in China. This is another game changer for the sport, UFC, and potential athletes throughout Asia."
It is expected to open for business sometime int he second quarter of 2019.
"I think it's pretty evident why the UFC sees international expansion and growth in Asia and China, specifically. And for us, for the UFC and the UFC PI, the vehicle in which we're willing to achieve that is through developing talent," said James Kimball, the UFC Performance Institute's vice president of operations of the development.
"So, in terms of the model and what's different … in Vegas, obviously we're working with athletes that are currently on the UFC roster. That facility will be available to athletes currently on the UFC roster, but predominantly we will be developing talent. So we'll be recruiting talent from mainland China and the surrounding regions in [Asia-Pacific] to get them UFC caliber and UFC approved."
Kimball also states that the goal is to develop a further number of institutes across the globe to help foster new talent — a move which could only be good for the sport as a whole.
Comments
comments