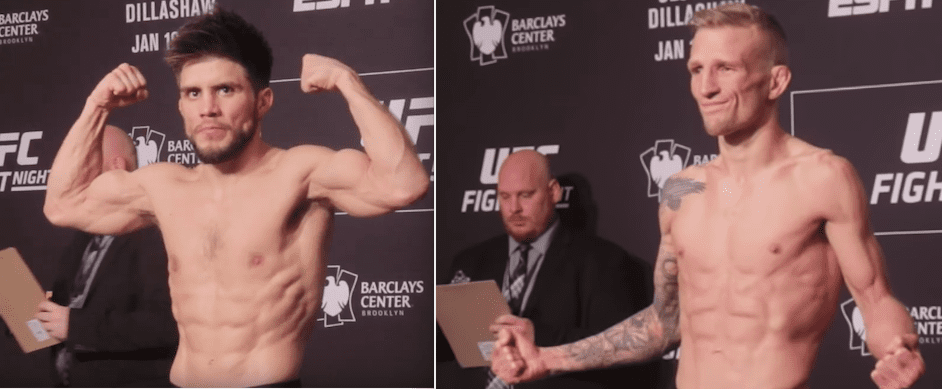 The questions as to whether or not UFC bantamweight champion T.J. Dillashaw could make championship weight at 125-pounds has been answered.
Dillashaw tipped the scales at 124.6 pounds, more than 10 pounds lower than the bantamweight limit, at this morning's early weigh-ins at the UFC host hotel in New York. Previous flyweight king Demetrious Johnson had publicly resisted the idea of facing Dillashaw, citing concerns that he would struggle to make weight which may have led to the bout being cancelled, but those fears were well and truly allayed in advance of him stepping on the official scales as he posted images to social media showing him on weight early this morning.
The champ Henry Cejduo, who has in the past had trouble making the 125-pound weight limit, also made weight without issue, as did every other fighter on the card including Paige VanZant and Rachael Ostovich.
The full weigh-in results for this weekend's UFC Brooklyn are:
MAIN CARD
Champ Henry Cejudo (124.4) vs. T.J. Dillashaw (124.6) – for flyweight title
Allen Crowder (252.6) vs. Greg Hardy (264)
Gregor Gillespie (155.2) vs. Yancy Medeiros (155.4)
Joseph Benavidez (124.4) vs. Dustin Ortiz (123.8)
Rachael Ostovich (125.8) vs. Paige VanZant (125.8)
Karl Roberson (203.8) vs. Glover Teixeira (205.6)
PRELIMINARY CARD
Donald Cerrone (155.8) vs. Alexander Hernandez (155.4)
Joanne Calderwood (125.8) vs. Ariane Lipski (125.2)
Alonzo Menifield (204.6) vs. Vinicius Moreira (205.6)
Mario Bautista (135.2) vs. Cory Sandhagen (135.6)
Dennis Bermudez (155.8) vs. Te Edwards (155)
Belal Muhammad (170.2) vs. Geoff Neal (170.4)
Chance Rencountre (170.4) vs. Kyle Stewart (170.4)
Comments
comments