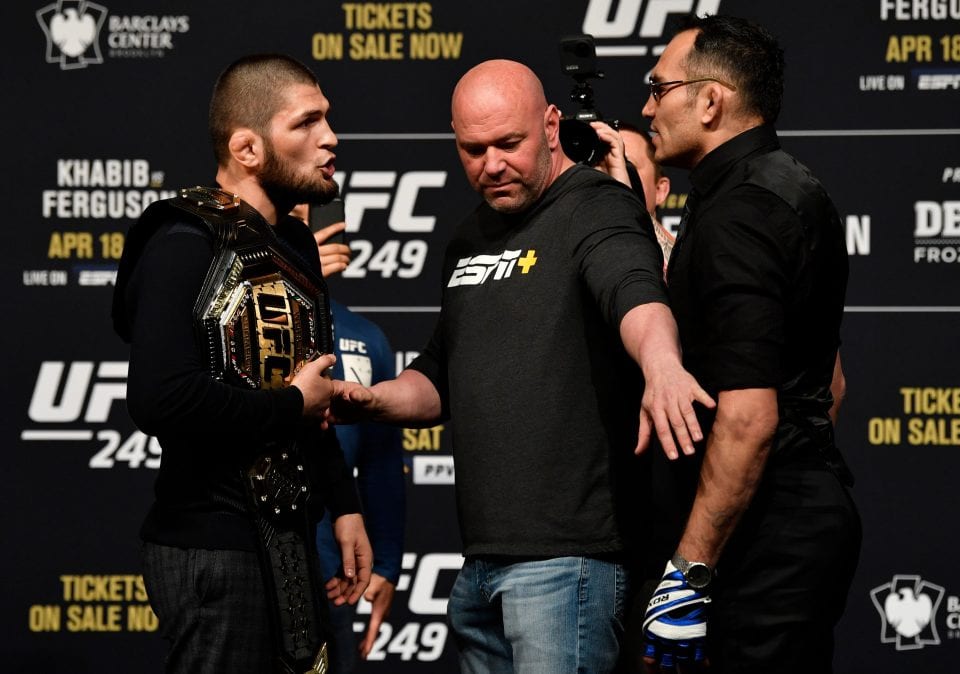 Despite Dana White's insistence that a fight between Khabib Nurmagomedov and Tony Ferguson will happen in spite of the global situation surrounding the coronavirus pandemic, any immediate match-up between the two fighters now appears dead in the water according to the Russian fighter.
The UFC 249 headliner had been initially slated to take place in New York before a hasty about-face was required by the organisation amid the worsening Covid-19 situation in the city. White, though, was dogged in his stance that the much-anticipated fight would take place at another venue either in the United States or abroad.
Nurmagomedov returned to his native Russia from his training base in San Jose, California but contrary to reports that he had left the country for Abu Dhabi he confirmed early on Monday that he is currently in Dagestan and is unable to leave due to restrictions announced by the Russian government designed to mitigate the spread of coronavirus.
Speaking on an Instagram Live video, he said that he flew to the United Arab Emirates — where he says the UFC told him the fight was likely to happen — but immediately left when he learned that the country may soon close their own borders, meaning that he may have been stuck there indefinitely.
"We were training in AKA without any information regarding the fight, where and how is it going to happen," he said via translation. "Then the UFC told us that the fight 100% isn't happening in the States. And they said that 99% that it will happen in Emirates, Abu Dhabi.
"After talking to the UFC we decided to fly over to the Emirates a month before the fight. I don't remember the exact date, it was 19th or 20th, I'll have to check. But when we landed in Emirates we learned that they are going to close borders. And no one will be able to leave or fly in, with exception for residents.
"So we had to fly back to Russia. Currently I am in Dagestan and I am training and preparing every day. Although I don't know what am I preparing for. Because after we came to Russia we also learned that the borders are going to be locked. Same like in the States, same like in Europe, Emirates, everywhere. The whole world is in quarantine right now.
"So now I am hearing that they are looking to organise it with or without me. OK, go ahead. Everyone should follow the laws. I am not against it, I know that fighters need to feed their families and pay their bills. I know how hard it is for the fighter. Unless they fight they aren't getting any money.
"I am even hearing that they are looking for an opponent for Tony, because he is in the States and I am here in Russia. But I am here not on my own will.  The UFC told me that this fight 100% isn't happening in the USA, and even if it's not happening in the Emirates it will happen on this side of Atlantic. We discussed everything with the UFC. By that time I already spent 5 weeks of hard training in AKA.
"Now I don't really know what's going on. It's really hard to train and cut your weight when the whole world is locked down and you don't know what you are preparing for. But it's not the first time I face obstacles in my career."
Comments
comments