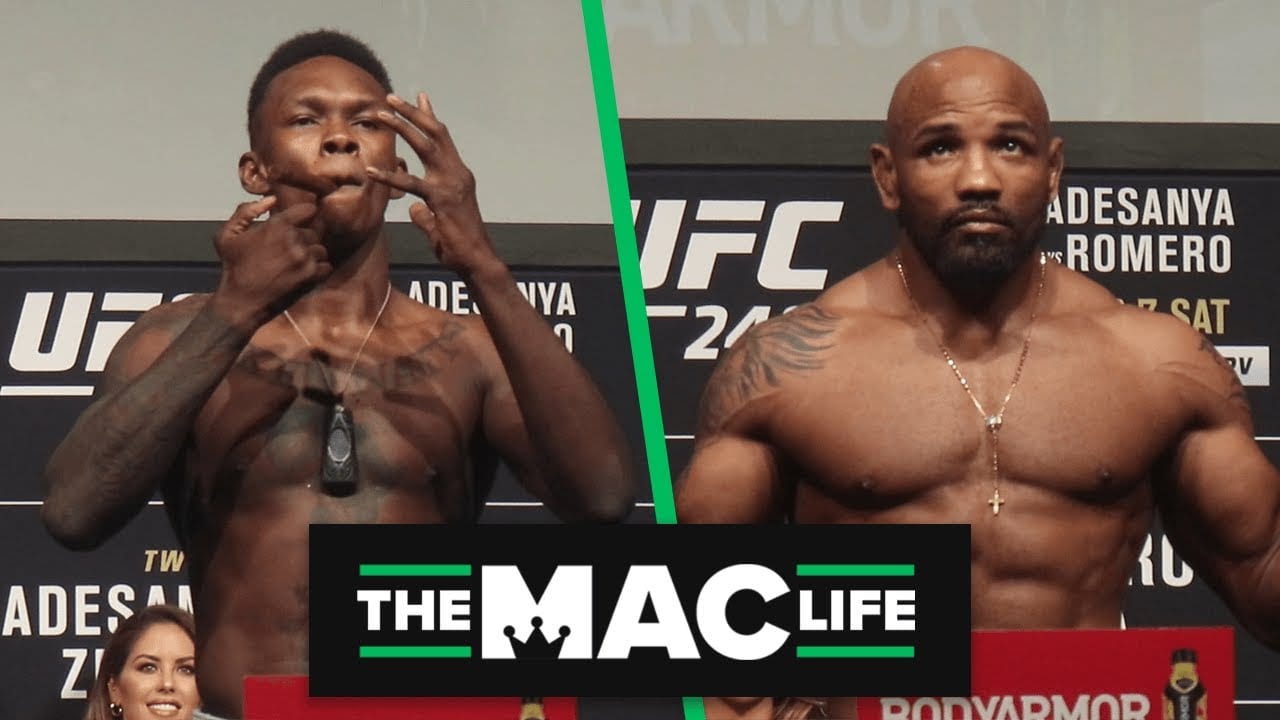 Instead of sitting around waiting for consensus number one contender Paulo Costa to regain fitness after a bicep injury, middleweight champion Israel Adesanya has opted to keep busy. 
At UFC 248 on Saturday night, the 185 pound champion will face a test unlike any other he has tangled with in his 25 month UFC career. Yoel Romero, despite those two successive defeats which he will bring to the cage in Las Vegas, remains one of the division's most difficult assignments. His grappling credentials speak for themselves but even at 42-years-old, the Cuban Olympic wrestling silver medalist is one of the weigh class's most athletic fighters and is capable of ending the fight in any manner of different methods.
However, this is exactly the type of challenge that Adesanya has campaigned for. The Nigerian-born New Zealander has appeared without equal in his relatively brief UFC tenure to date but the one fight in which he has appeared in trouble (Kelvin Gastelum) could well serve as the neatest companion piece to what he should expect in the cage from Romero in Las Vegas on Saturday.
Like Gastelum, Romero has incredibly powerful striking. It may not be as technical as Gastelum's but it is arguably significantly more concussive. Romero's wrestling also vastly outstrips that of Gastelum but it remains to be seen if the Cuban will attempt to rely on his grappling base against Adesanya (though smart money suggests he would).
Adesanya, though, is a different animal. His efforts in the cage speak volumes for his athleticism and fight IQ, and is perhaps the most adept fighter in the division (or even the company as a whole) at fighting from his preferred range.
Romero wouldn't be advised to fight from distance as that will likely lead to target practice for the 'Last Stylebender' but if he is able to get inside and make the fight a rough and tumble, in-your-face affair it could represent his best chance of victory.
Adesanya's continued heroics in the cage suggests that his striking will be the difference-maker in the fight but if Romero is able to gain an entry-point into the fight early and win one or two of the opening rounds, it could lead to Adesanya having to push forward and place himself in increasingly dangerous positions.
Who is favourite to win?
According to oddsmaker Parimatch, Adesanya is favourite to win but the odds suggest that it will be a close fight.
Israel Adesanya:  1.85 or 17/20
Yoel Romero:  1.95 or 19/20
How will the finish come?
It is of little surprise that a fighter of Adesanya's striking pedigree has low odds in winning the fight by KO or TKO. Romero's power, though, also gives him a notable chance in this area.
Israel Adesanya by KO/TKO/DQ:  2.70 or 17/10
Israel Adesanya by Submission: 19.0 or 18/1
Israel Adesanya by Decision: 2.70 or 17/10
Yoel Romero by KO/TKO/DQ:  4.05 or 61/20
Yoel Romero by Submission:  21.o or 20/1
Yoel Romero by Decision:  9.5o or 17/2
Our best bet
This is a difficult fight to appraise given the contrast in style which exist between both men. Adesanya by TKO or KO inside the distance seems like a solid bet but the number of a Yoel Romero decision win seem too good to pass up. Expect a very tight affair, with everything on the line going into the fifth round but, unlike his performance against Gastelum, the Kiwi won't be able to surge past the finish line. Romero by split decision.
****
Odds supplied by betting partner Parimatch and may change in advance of the fight.
Comments
comments