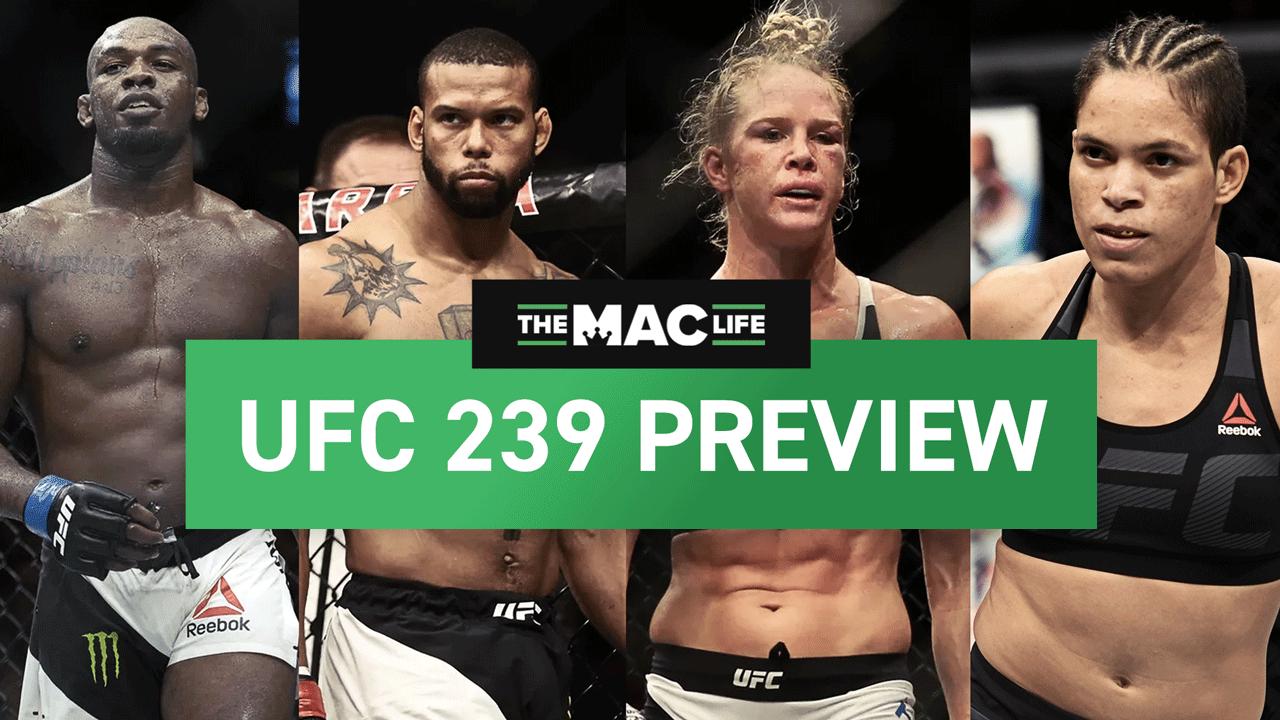 The stakes are high for the UFC's biggest event of 2019 thus far.
The 12-fight UFC 239 card is packed bouts which will have serious implications for the future of various different weight categories inside the UFC, topped by a man who has yet to find his equal in Jon Jones as he defends against the vicious Muay Thai stylings of Thiago Santos.
Amanda Nunes, one half of the UFC's current crop of 'champ champs', will face a woman well-acquainted with scoring underdog wins in Holly Holm while a heated rivalry between welterweight contenders Jorge Masvidal and Ben Askren will likely result in some of that bad blood being spilled on the octagon canvas.

Who Is Fighting?
Jon Jones (c) vs. Thiago Santos – For UFC Light Heavyweight title
It is perhaps strange to think that Jon Jones is still just 31-years-old but Jones has spent one-third of his life as an active mixed martial artist at the highest level and, with respect to Alexander Gustafsson and Daniel Cormier, the only man who has so far appeared capable of hindering him is Jones himself. His outside-of-the-cage antics, which are well-documented, restricted Jones to just four fights in four years between 2014 and 2017 but on Saturday night he will take on his third contest since December. Now well-oiled and with his engine purring, Jones will be in search of his 25th career victory as he hopes to continue the momentum he has achieved in recent months.
Much like Jones' last title defence against Anthony Smith the champ will take on another former middleweight fighter in Thiago 'Marreta' Santos, a vicious Muay Thai striker with an absolutely outstanding left body kick in his arsenal. Santos has won eight of his last nine but just three of those have come at 205-pounds, making it easy for people to overlook the challenger for a lack of experience at this level. The truth is, everybody is inexperienced against Jon Jones and the champion should be considered a heavy, heavy favourite going into the cage on Saturday.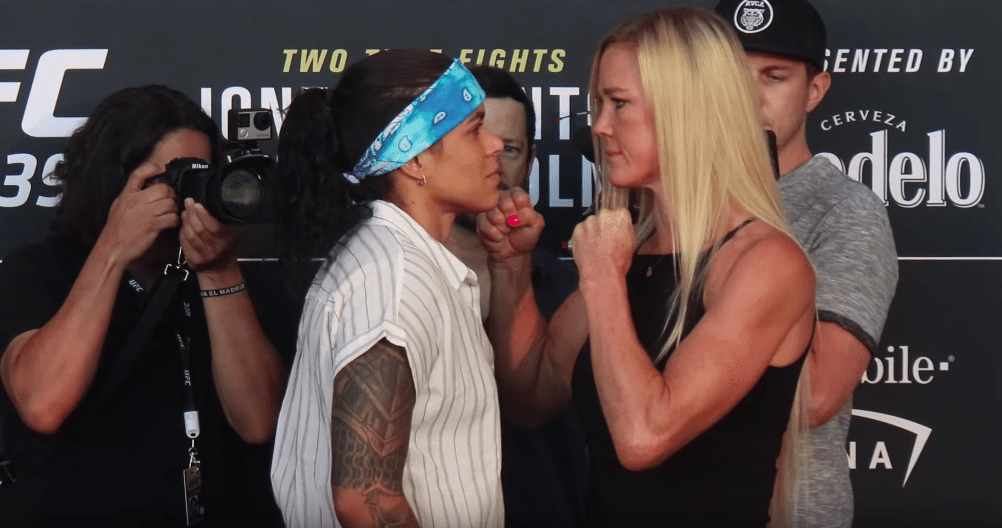 Amanda Nunes (c) vs. Holly Holm – For UFC Bantamweight title
Let's be honest here, the mixed martial arts community is prone to hyperbole sometimes but it is becoming increasingly difficult to disregard the concept of Amanda Nunes — the UFC's bantamweight and featherweight champion — being the greatest female fighter of all time. The Brazilian's recent eight fight win streak has come against a who's-who of of MMA royalty like Cris Cyborg, Ronda Rousey, Valentina Shevchenko and Miesha Tate. In fact, the one prominent name that doesn't appear is that of her opponent on Saturday.
Holly Holm has played this role before. Few gave the American former professional boxer a chance against Ronda Rousey nearly four years ago but one left high kick later, there was a new champion as the fight community grappled with what they had just witnessed. Think about this: if Holm is to reclaim the 135-pound title this weekend, defeating Nunes in the process, where does that leave her on the all-time GOAT list? Let's save that discussion for Sunday morning.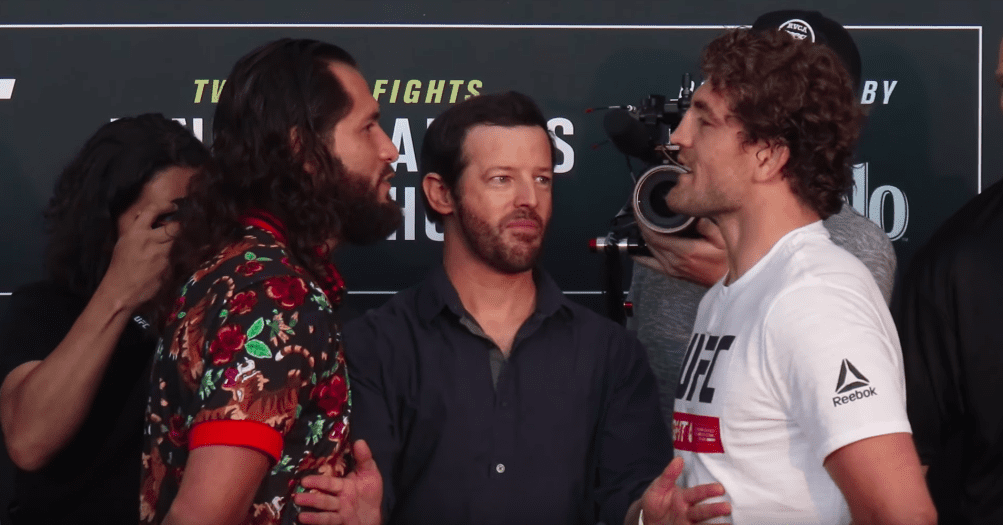 Jorge Masvidal vs. Ben Askren
This really is a fascinating fight. So far in his MMA career, none of Askren's 20 opponents have even come close to having answers for the Olympian (though Luis Santos did cause him a lot of trouble in the 2 minutes they fought for in ONE Championship before an eye-poke put paid to that), which is what makes his showdown with Masvidal so interesting as he is well-known for being one of the welterweight division's better strategists.
The first couple of minutes of the first round should tell the story of this fight. If Askren can get Masvidal to the mat, he will look to keep him there for as long as possible but Masvidal is an underrated wrestler, has solid submissions and exceptional boxing — a recipe for which Askren will have to be aware.
Under The Radar Bout
Arnold Allen vs. Gilbert Melendez
25-year-old Allen is among the most promising young UK fighters currently on the UFC roster but he will face a stern test against former Strikeforce champion Melendez, who fights for the first time since September 2017 where he lost to Jeremy Stephens — his fourth loss in a row.
Allen has indicated to the media this week that he has been watching Melendez fight since he was a 15 years old but in order to take the next step in his career, he will have to put one over the man he has idolised for a decade.
What Are They Saying?
Weigh-in Results
MAIN CARD 
Jon Jones (205) vs. Thiago Santos (204.5) – for light heavyweight title
Amanda Nunes (135) vs. Holly Holm (133.5) – for bantamweight title
Ben Askren (171) vs. Jorge Masvidal (170.5)
Jan Blachowicz (205.5) vs. Luke Rockhold (204.5)
Michael Chiesa (170.5) vs. Diego Sanchez (169)
PRELIMS
Arnold Allen (145.5) vs. Gilbert Melendez (145.5)
Nohelin Hernandez (136) vs. Marlon Vera (136)
Claudia Gadelha (115) vs. Randa Markos (116)
Alejandro Perez (135.5) vs. Song Yadong (135.5)
Jack Marshman (185) vs. Edmen Shahbazyan (185)
Ismail Naurdiev (171) vs. Chance Rencountre (170.5)
Julia Avila (135) vs. Pannie Kianzad (135)
How To Watch
Main Card – 3am (Ireland & UK) BT Sports Box Office; 10pm ET (US) ESPN+
Prelims – 1am (Ireland & UK) UFC Fight Pass; 8pm ET (US)
Early Prelims – 11.15pm (Ireland & UK) UFC Fight Pass; 6.15pm ET (US) ESPN+
Comments
comments