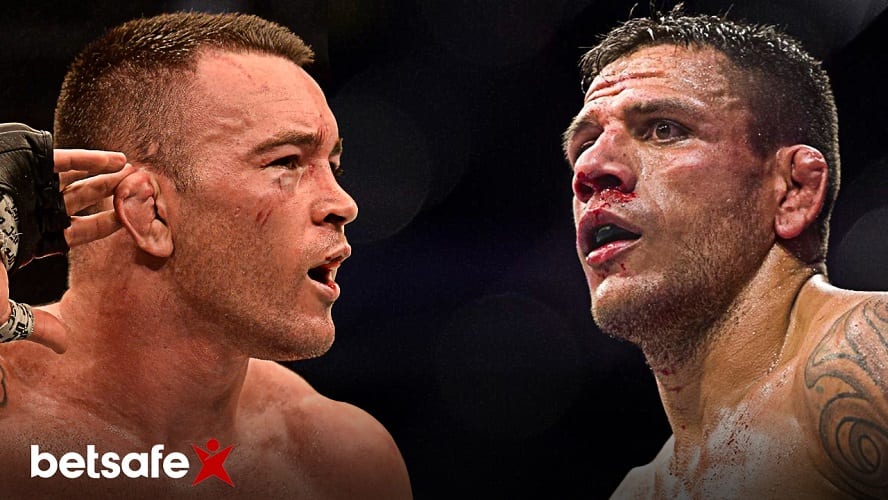 Colby Covington's feud with Brazil is one of the more interesting (or tiresome, depending on your perspective) subplots currently underway in the UFC.
The American wrestler ensured that Brazil had found a new heel to be the subject of their derision in his last win, a unanimous decision win against Demian Maia in Sao Paolo last October. After the official decision was read aloud Covington took a page from Chael Sonnen's book of how to antagonise an audience, but instead of it being somewhat tongue-in-cheeks as Sonnen's was, Covington upped the ante considerably.
Brazilian fans were "filthy animals" according to Covington, who didn't reserve any praise for the country either. Since that moment in late October Brazilian fighters, many of whom considering themselves as having a score to settle, have been itching to get their hands on him.
On Saturday, Rafael Dos Anjos gets that opportunity. Dos Anjos, a former UFC lightweight champion, has been in impressive form since moving up from the lightweight division. His three fights at 170-pounds have yielded three wins but in Covington he will face a different test entirely compared to the ones he has so far passed with flying colours.
Dos Anjos' game is defined by an above average striking arsenal coupled with a decisive array of ground submissions, tools which he has relied upon for 14 of his 28 MMA wins to date. In particular, it is his striking which could prove the undoing of Covington.
In his fight with Maia last year, Covington appeared very uneasy on the feet — particularly in the first round where he was largely outstruck by a fighter not particularly regarded for his boxing acumen. Dos Anjos is a far more ferocious striker than his compatriot, and he could use his strikes to 'box up' his opponent or to make Covington wary enough to initiate a clinch, which opens up a new range of options for the Brazilian.
Covington's bread and butter is his All-American wrestling. It remains to be seen if he has a rounded enough game to rise to the top of a deep welterweight division but his wrestling is unquestionably among the best in the division. Interestingly, the majority of Dos Anjos' losses have come against opponents who favour a grappling heavy approach — Khabib Nurmagomedov, Gleison Tibau and Clay Guida among them.
Whoever implents their strategy first will have a good shot at winning the bout, which leads us to…
Unsurprisingly, this fight is something of a pick 'em. Neither Dos Anjos or Covington are separated by the odds (which are still in flux).
THE PICK
Colby Covington has just one loss on his record and it is a submission at the hands of a Brazilian. Our pick is that this gets repeated on Saturday. The official pick is Rafael Dos Anjos by guillotine choke in the third round.
Comments
comments