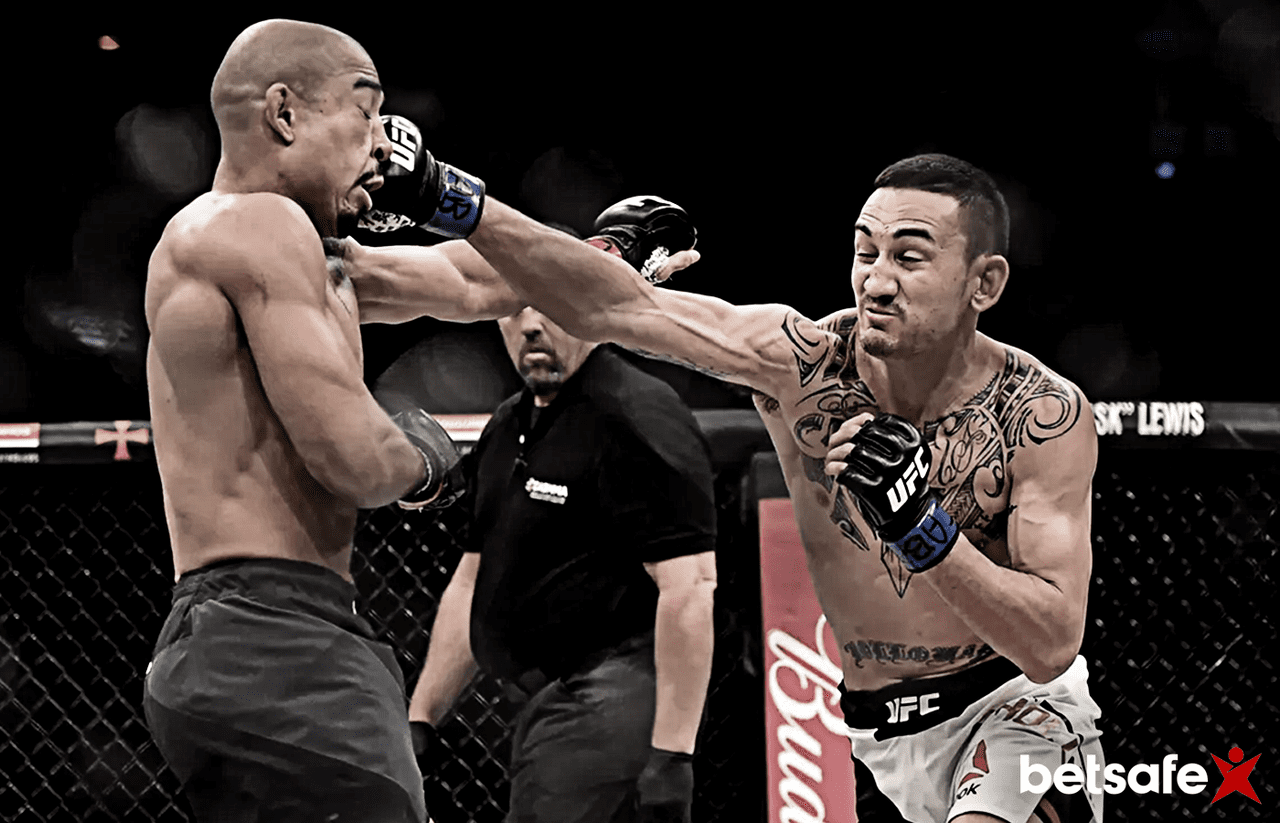 Max Holloway's 11-fight winning streak in one of the UFC's most competitive division's culminated in a victory against José Aldo to claim the featherweight title last summer. In the main event of UFC 218 in Detroit on Saturday night the Hawaiian fighter will look to repeat the result once more against Aldo, who was transplanted into the event on short notice following an orbital injury sustained by original challenger Frankie Edgar three weeks ago.
In their first bout Aldo pushed an early pace, winning the first two rounds which a steady stream of strikes which seemed to catch Holloway — participating in his first undisputed world title bout — half a beat off the pace.
He caught up in the third. With Aldo's pace slowed somewhat after 10+ minutes, Holloway landed a swift one-two inside which felled the champion. After a series of uncontested strikes on the ground, the fight was over and a new champion had been crowned. As time continues to catch up with a battle-worn Aldo, Holloway will once again be confident of repeating the events of their first meeting. However, the last time Aldo came into a bout after rebounding from a defeat was against Frankie Edgar at UFC 200, a fighter where the Brazilian put in a clinical performance, winning a decision in which he rarely afforded the endlessly game Edgar an opportunity to gain any momentum.
If Aldo is to win, he must repeat — or even improve — on that performance. Holloway will pose a vastly different challenge than Edgar and, perhaps unlike the assembly line of wrestlers that Aldo has faced throughout a large part of his UFC tenure, Holloway will be more than comfortable in keeping the fight standing throughout. And, as he showed in their first meeting, he is capable of having success there.
You will get odds of 1/3 on the champion retaining his title. José Aldo is listed at 9/4.
The Pick
In some ways, this is a battle between two different mixed martial arts philosophies. Aldo has never strayed too far from the grinding Muay Thai style which has brought him considerable success throughout his career, even despite the much exalted ground game we keep hearing so much about. Holloway, meanwhile, is an ever-evolving fighter. Each time we see him typically yields an improved performance compared to the last. Add to that the confidence he has since winning the title, as well as long winning streak, and you have a fighter performing at his fullest potential.
Aldo is always dangerous and his best route to victory is to start fast and try to build up an advantage on the scorecards and then catch Holloway later in the fight as he gets desperate but we think that Holloway can repeat — and once again improve — on the last time we saw him in the cage.
The pick is Max Holloway by unanimous decision.
You can join Betsafe today to place your bets for this weekend's UFC 218 from Detroit, Michigan. Special offers are available for new customers and you can view all of the details via the Betsafe website.
Comments
comments