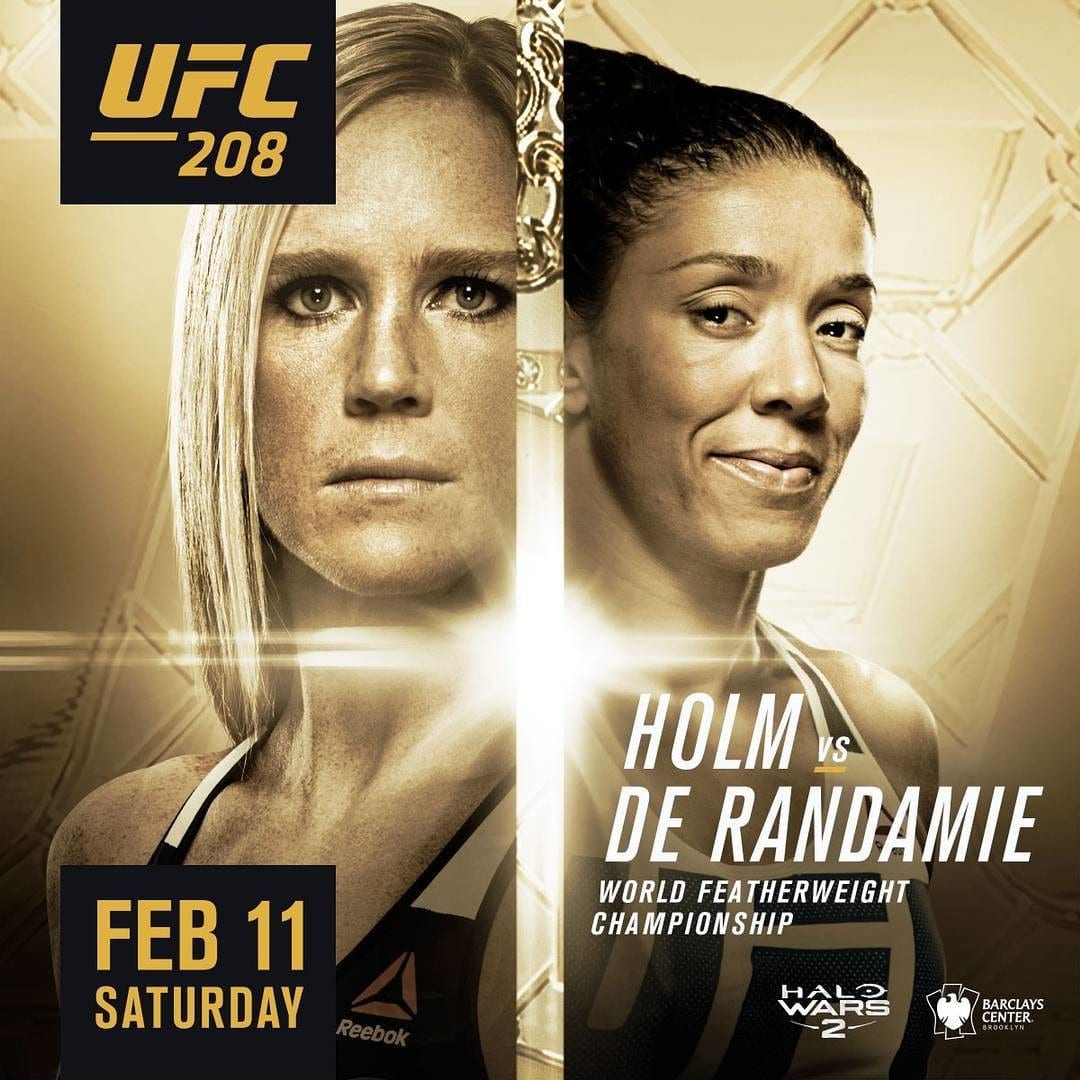 UFC 208 is upon us, and tonight, a new title and an old legend head to Brooklyn to play a part in the UFC's first pay-per-view of the year.
There's been something of an odd nature to this card, and a general sense of uncertainty around it, but actually UFC 208 finds itself with plenty of depth. Don't just take my word for it, let's take a look at tonight's main card.
Holly Holm vs. Germaine de Randamie
Holly Holm is operating in a rare space tonight. She's both fighting for a world title, and attempting to avoid hitting the dreaded three-loss-streak. And against Germaine de Randamie, she meets an equally talented striker who is ready to send her home to what would surely be the lowest point of her career.
But Holly Holm was a champion, and the woman who dethroned the previously un-dethronable Ronda Rousey. While Holm's striking could well be cancelled out by that of de Randamie, there is a reason she went so long without suffering losses (especially back to back ones). It might not be a crazy brawl, and could well be a dragged out decision, but Holm should be on the winning side here.
Winner: Holly Holm
Anderson Silva vs. Derek Brunson
In the co-main event, Anderson Silva faces Derek Brunson in what many speculate will be the decisive sign of how Silva should be viewed going forward.
Plenty would point to Brunson's wild winging striking style as tailor made for the sports greatest counter striker, but while Anderson hasn't looked as bad as his 0-5 streak suggests, his chin is no longer the granite establishment it once was. While Cormier was unable to hurt him, Michael Bisping dropped him early in their fight and if he lets Brunson tag him in a similar fashion, the younger man has the power to put anyones lights out.
Winner: Derek Brunson
Ronaldo 'Jacare' Souza vs. Tim Boetsch
Another one of the fights that fans seemed to initially shy away from when it was announced, Souza-Boetsch is a slightly odd pairing, with Jacare banging down the door to the title shot while Boetsch appears more to be a dangerous litmus test for the majority of the division.
Boetsch does have the power to put people to sleep (violently), and mixed martial arts is renowned for having the underdog with big hands coming out on top, Jacare is an elite, elite level fighter and should likely be able to win this in any fashion he fancies.
Winner: Jacare
Glover Teixeira vs. Jared Cannonier
Glover Teixeira returns for the first time since his devestating knockout to Anthony 'Rumble' Johnson at UFC 202 to face Jared Cannonier, who takes a huge step up in competition.
While fighters returning after huge KO defeats are always cause for concern, and their performances can often suffer, Teixeira should still be more than enough for the more inexperienced (and part-time) Cannonier.
Winner: Teixeira
Dustin Poirier vs. Jim Miller
Dustin Poirier vs. Jim Miller is another example of why UFC 208 has strength in depth. The main cards opener has the potential to be a fantastic fight, and Miller and Poirier have been involved in plenty of entertaining scraps in their careers. Really, it's a fight that either man winning wouldn't be a surprise.
But, after 25 fights, Poirier has still never lost two in a row. While Miller could well be the man to change that, Poirier should have more tools to make sure he doesn't.
Winner: Poirier
Comments
comments