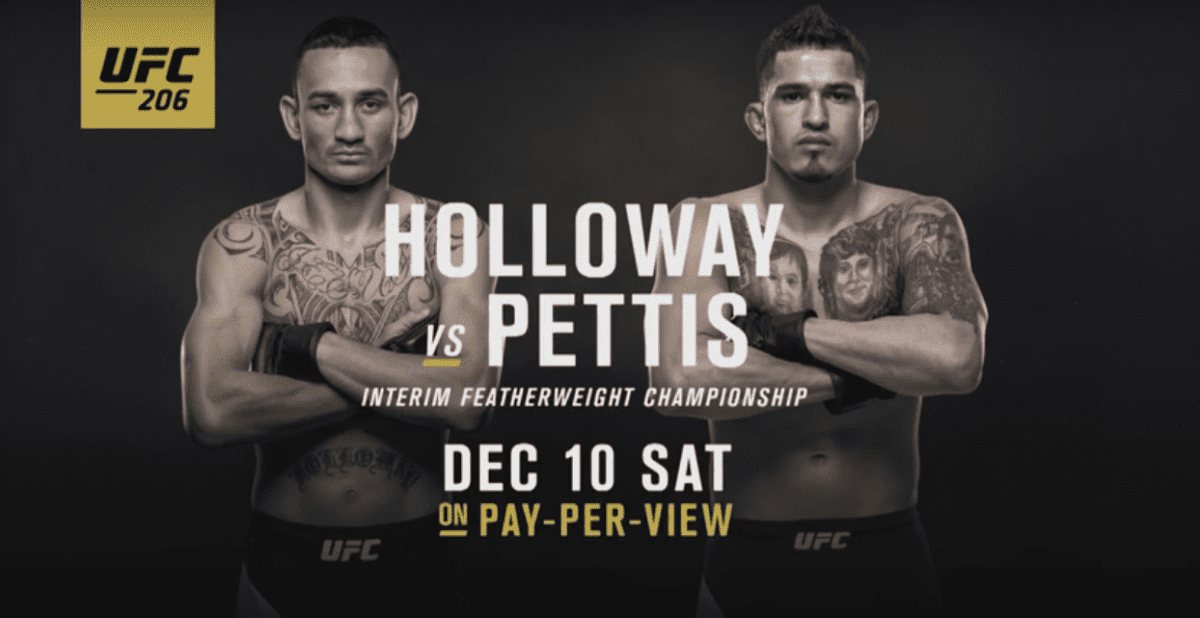 UFC 206 has got a bit of a bad rap. Ever since the card was announced, and fights began being added, the UFC's return to Canada has been met pretty consistently with a "yeah, but.."
Some of that, is the understandable frustration at the absence of Georges St-Pierre. The legendary welterweight made it clear he was angling for a return, and the combination of his announcements timing and the upcoming Toronto card made it seem like a match made in heaven — until it wasn't made.
So, there was already a sense of being underwhelmed that was then made worse when the headlining act between Daniel Cormier and Anthony Johnson was axed due to injury. And all that's without going into the sudden addition of a spurious interim featherweight title.
But if you take all that controversy away, you're actually left with a pretty decent card. Sure there isn't a main event to rival that of UFC 205 or UFC 207, and Canadians are definitely suffering from having an event stuck in between two of the biggest of the year — but on paper this is could turn out to be quite the show.
Anthony Pettis vs. Max Holloway
Baggage aside, the featherweight main event has the potential to be a fight of the year candidate.
Pettis and Holloway are both hugely dynamic fighters, able to both mix flashy techniques with grit and a willingness to stand firm and trade. Holloway rides a nine fight win streak, while Pettis recently broke a three bout slide; although the Milwaukeean's undeniable skill puts his lack of momentum into lesser value.
But one thing that could play a potential factor here is the weight cut. Pettis failed to reach 145-pounds, and looked incredibly gaunt and weak on the scales. So, while the fight goes ahead, in something that could be a close and evenly matched affair, a draining weight cut could certainly take it's toll in the fourth and fifth rounds.
Pick: Max Holloway
Donald Cerrone vs. Matt Brown
In the co-main event, Cowboy Cerrone vs. Matt Brown is the only
The fight has also taken an interesting aspect, in regards to Brown's attitude. In this weeks media leading up the bout, Brown has made no secret that he doesn't care for Cerrone, and a tense staredown where he turned down a handshake only drove the point further.
Despite the intrigue, the two are facing different types of momentum.
Brown is on a two fight losing streak, while Cerrone appears to be hitting a consistent best after a move up to the welterweight division. But despite the contrast in fortunes, Brown is game for anybody, and his pressure could cause trouble for Cerrone's more measure style. The fight could well be decided in who dictates the range, with Brown looking to clinch and elbow, with Cerrone no doubt using his patented knee to counter and keep distance.
In the end, while the fight certainly has the potential to be insane and go in any direction, Cerrone's incredible 170-pound run looks favourite to continue here.
Pick: Donald Cerrone
Cub Swanson vs. Dooho Choi
When Choi defeated Thiago Taveres in July, and called out Cub Swanson, it was an ambitious ask. Swanson is a former title contender at featherweight, and despite entering what some consider to be the downward slide of his career, is a formidable opponent — especially for a young up and comer like Choi.
But "the Korean Superboy" does appear to be a genuine talent. His knockout victories with the same hard right hand appear to be something of a trend, and will definitely give the multiple strike style of Swanson something to think about.
In the end, this is a fight that could well be decided on where it takes place. If Swanson can force the wrestling, he may be able to slow the pace down and grind a decision (which would be his third straight). Despite that, fighting is a lot to do with momentum, and that is with the Korean.
Pick: Dooho Choi
Tim Kennedy vs. Kelvin Gastelum
When Tim Kennedy and Kelvin Gastelum agreed to fight at UFC 205, neither man expected to end up meeting each other in Canada a month later, but that's just kind of how UFC 206 has been.
Kennedy hasn't fought since his bizarre loss (stoolgate) against Yoel Romero back in September of 2014. To put that into context, Conor McGregor fought Dustin Poirier at the same event.
Meanwhile Gastelum has fought five times since that date, and has achieved a decent 3-2 record, culminating in his most recent and most impressive win over Johny Hendricks at UFC 200.
It's an interesting bout, partially because Gastelum continues to show new growth every time he fights, and partially because Kennedy has been away so long.
Because Kennedy's personality can sometimes rub people the wrong way, fans tend to overlook his abilities. He has a dominant victory over current champion Michael Bisping, and the Romero loss has quite a substantial asterisk beside it. Look for him to remind observers why he was near the top of the division with a win here.
Jordan Mein vs. Emil Weber Meek
Opening the main card is Jordan Mein and Emil Weber Meek.
For an opener, Meek has actually drawn a fair amount of attention over the course of fight week. His enthusiasm at media events and his incredible viking-like appearance has got people talking… particularly when the Ontario commission required him to shave his beard.
One thing that's striking about the opening bout is the difference in experience. Meek has 10 fights on his record, which seems rather paltry in comparison to Mein's 39.
The odds show Mein as the slight favourite, and I'm inclined to go along wiht those. Look for the veteran to hand Meek a loss as he makes his UFC debut.
With all that being said, enjoy the fights!
Comments
comments