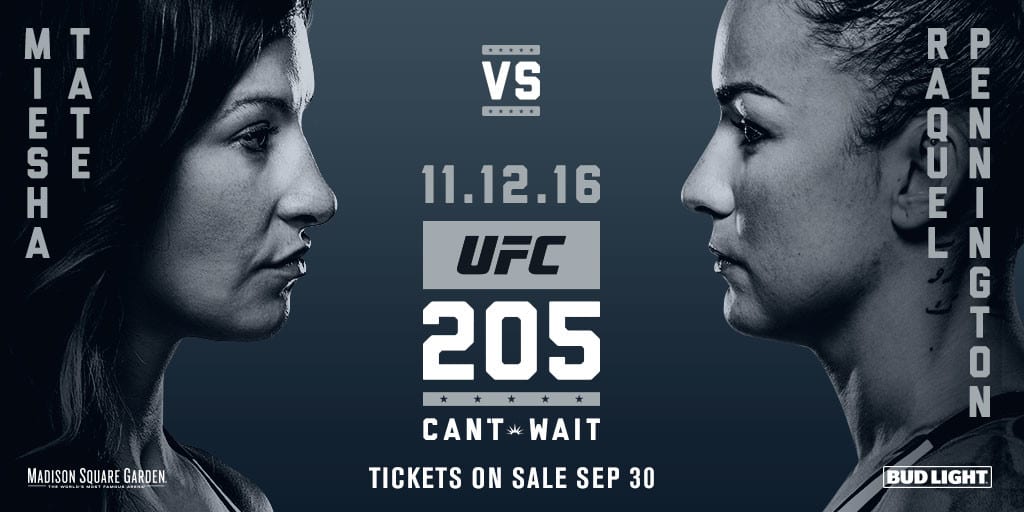 Opening the show at UFC 205 are Miesha Tate and Raquel Pennington. Two women who are actually very familiar with each other. In fact, Pennington (who found her way to the UFC via The Ultimate Fighter), was in fact the third female pick for 'Team Tate'.
"It's an exciting fight. Obviously, Miesha and I have history," Pennington said on the podcast UFC Unfiltered. I was on The Ultimate Fighter. She was my coach on there. We were friends. I went out and trained with her for her second fight camp against Ronda."
"There's a storyline there, so it's exciting to have this opportunity. She has a huge name and stuff, and everybody knows who she is. It's just the perfect opportunity. I'm extremely excited. I've never been more motivated for a fight."
While Pennington is on a three fight winning streak, her last being a unanimous decision over Elizabeth Phillips at UFC 202, Tate comes into the bout on less ceremonious circumstances.
While she did have the honour of headlining UFC 200, a noticeably tentative Tate was bulldozed by Amanda Nunes and lost her title. As such, she comes to New York with plenty to prove, and to make up for what she's described as the hardest night of her career.
Since the loss, Tate took some time away from the spotlight and appears to have recharged her batteries.
The two actually have fairly similar styles, both showing a willingness to either grind out gritty victories, or tire out opponents and get the submission. However, while Tate may be the fighter coming in on a loss, the level of success she has had against tougher competition far outshines Pennington's.
Don't be surprised if the former champion comes out to make a statement with an emphatic win over her friend.
Comments
comments