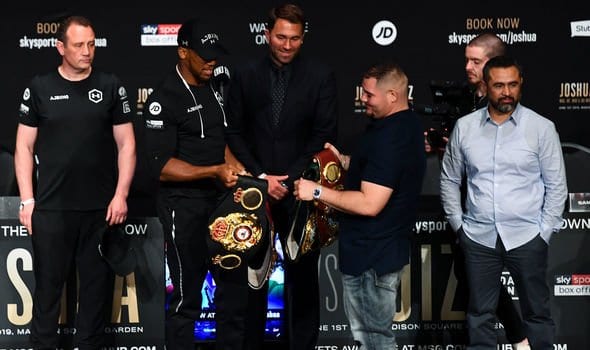 Tyson Fury's promoter Frank Warren has blasted Andy Ruiz Jr. for not taking his rematch with Anthony Joshua seriously and coming in out of shape and underprepared.
Warren wrote a column on his website slamming the former boxing heavyweight champion, going as far as to call him a disgrace to the sport.
"Andy Ruiz jr. …. brought disgrace to himself and the sport by simply failing to prepare to any sort of required level. Just because you are a heavyweight it shouldn't mean you don't have an obligation to display a certain degree of athletic intention," Warren wrote. "Yes, he was heavy last time around and usually wobbles a bit around the middle, but this was ridiculous. When eyebrows were being raised at the weigh-in he literally was the elephant in the room.
"Joshua must have wondered which chin he was supposed to aim for."
Following the contest, which Joshua won by judges decision, Ruiz admitted he hadn't taken his training seriously ahead of the fight and claimed that should they compete a third time, he would ensure he did so much more effectively.
Not good enough, says Warren.
"It is a bit late after the event to come out and say you partied too much and regret carrying so much weight," he wrote. "If he turned up like that for a non-title fight where the paymasters were not so invested in a positive outcome for their man, the promoters and TV executives would be rightly hacked off over a fighter coming in so obviously out of condition.
"What we ended up with was a fella who basically scoffed himself out being world champion and a spectacle that suffered as a result. The fault for this lies firmly with Ruiz, who didn't have any legs to close down a Joshua on the retreat.
"The bottom line from what we saw over in Saudi is that Ruiz was a disgrace to the belts he was defending. He did a Buster Douglas and ate himself out of contention. … I saw in an interview before the fight with Ruiz saying he had achieved his dream. Well, if his dream was to win the titles then stuff himself stupid and lose them at the first time of asking, then his dream has become a reality.
"King of the heavyweight division to Burger King in the space of six months."
Comments
comments