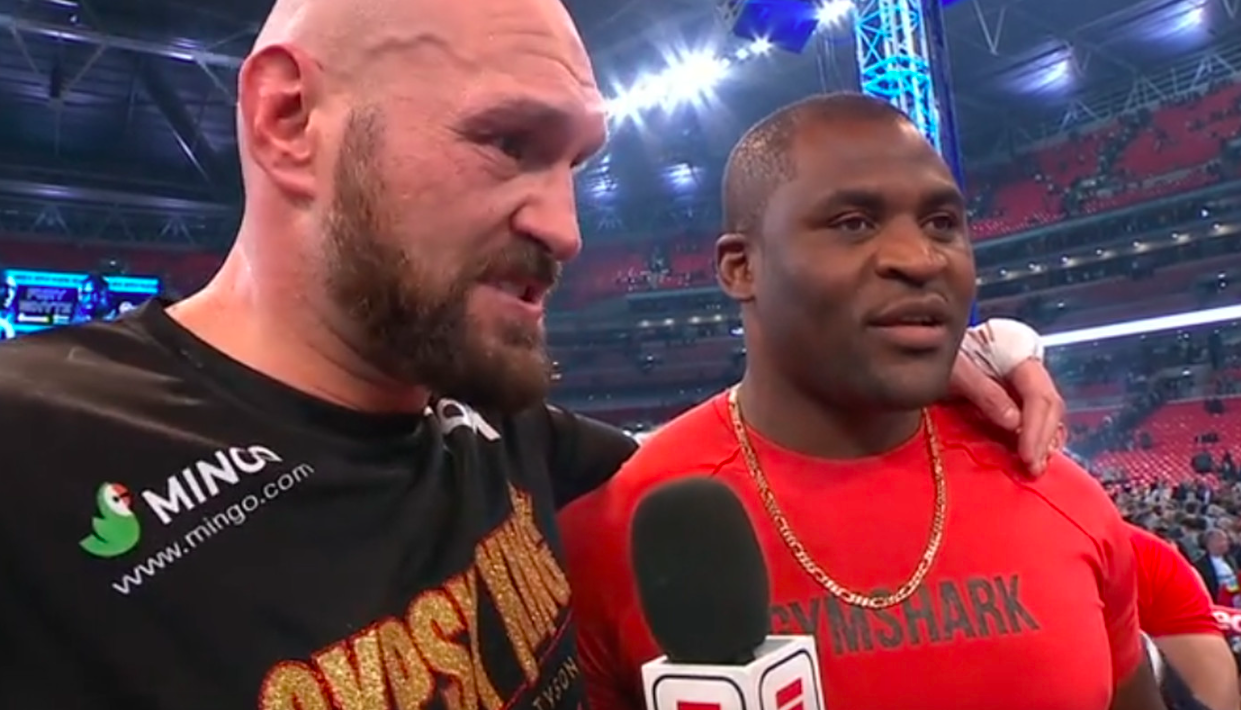 Tyson Fury and Francis Ngannou, both heavyweight champions of their respective sports, have agreed terms for an October 28 boxing match in Riyadh, Saudi Arabia, according to a report by ESPN.
After more than a year of speculation, it seems that Tyson Fury and Francis Ngannou will settle their differences in the ring later this year — a bout which will pit two of the most recognisable names in combat sports against one another in what is sure to be a pay-per-view bonanza for both men, and their respective promotional teams.
Details as to the specifics of the bout, as well as for whether Fury's WBC heavyweight championship will be on the line, have not yet been revealed. It was reported in recent days by Ariel Helwani that the contest might likely be an exhibition and that it may have a 'no knockdown' rule, though it remains unclear as to how specifically this might be governed.
Speculation as to the fight had been rampant ever since Ngannou joined Fury in the ring in London following the Englishman's knockout win against Dillian Whyte. At the time, Fury said: "Big Francis Ngannou is here today. He's on my hit list in an exhibition fight, however he wants it: in a cage, in a boxing ring, boxing gloves, UFC gloves, we can make it happen. I think everyone wants to see it. He's a monster of a guy, I'm a monster of a guy, so it will be a clash of the titans for sure."
Ngannou, who left the UFC earlier this year following the expiration of his contract, has long made clear his desire to compete in the boxing ring. A contract he subsequently signed with the Professional Fighters League (PFL) contained provisions for him to pursue boxing challenges, and his expected to make his mixed martial arts debut for the organisation in 2024.
"My next step has to be boxing," Ngannou told ESPN in March. "I want to do one boxing match first, and then maybe go back to MMA because I still enjoy MMA. I want to do a couple of fights in boxing. We are working on some stuff, and hopefully in a month or two I will be able to come out with an announcement on potential fight dates and locations. It's taking a little longer than I expected, but it's coming along. Big things come with time."
And when it comes to size, it doesn't get a whole lot bigger than two of the most dominant champions their respective combat sports have seen in recent years.
Note: It has since been confirmed that the bout will take place under standard boxing rules, but Fury's world title will not be on the line.
Comments
comments