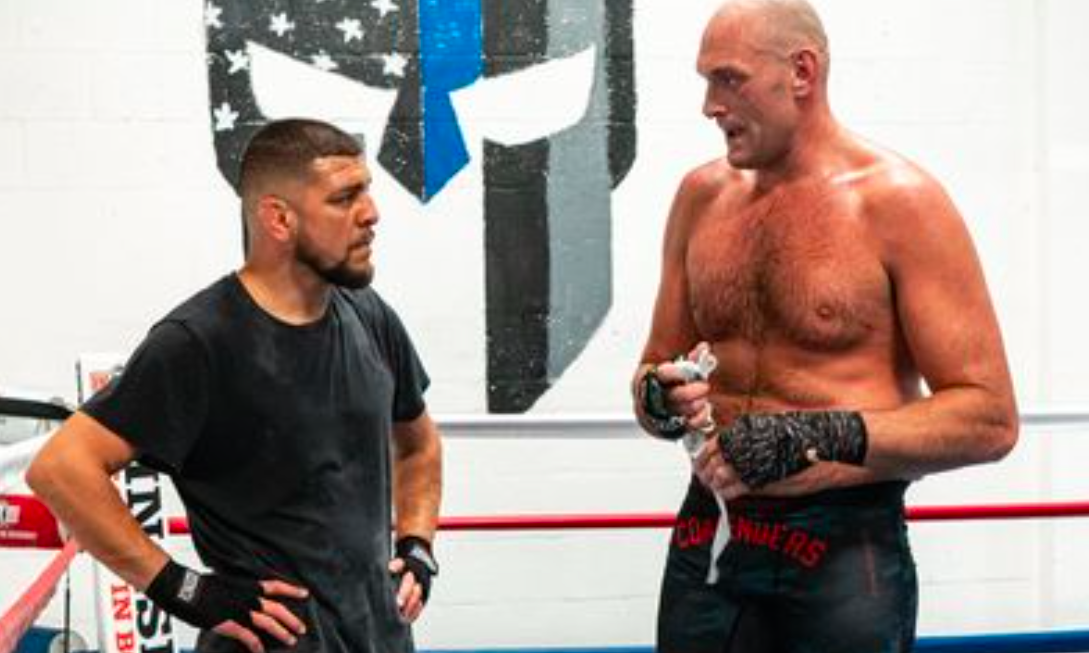 He might be a 'retired' fighter these days, but Tyson Fury has always shown he is interested in picking up a few new tricks. 
The WBC heavyweight champion vowed that he was to step away from boxing following his recent dominant title defence against Dillian Whyte but has made clear that he doesn't intend to stay very far from the training room. Such is his interest in learning new tricks, the Fury last year spent some times training with Nick Diaz — and the evidence of which has again been posted to Instagram.
View this post on Instagram
The slideshow, which you can see above, shows Fury in a range of different positions with the MMA veteran Diaz, during which he appeared to be learning various techniques from his back, including how to get back up to his feet when taken down — a vital tool for anyone with Fury's particular skillset.
"Nice bit of rolling around the mat," wrote Fury on the Instagram images reposted online by Diaz.
This wasn't the first time that Fury has tried his hand at MMA training after he was spotted at Liverpool's Team Kaobon alongside Darren Till, who drilled Fury in how to effectively throw elbow strikes.
These timing of these images will surely fuel speculation that Fury might take on a crossover mixed rules bout and he has been heavily linked to a fight with reigning UFC heavyweight champion Francis Ngannou. It was widely thought that the hypothetical fight would take place under pure boxing rules, but former Fury training partner Tom Aspinall recently called for a one-off bout which would see various MMA techniques available to Ngannou at the end of each round.
Of course, there is a long way to go before that would become a reality but it seems as though Fury at least has an appetite for learning some of the intricacies of MMA.
Comments
comments