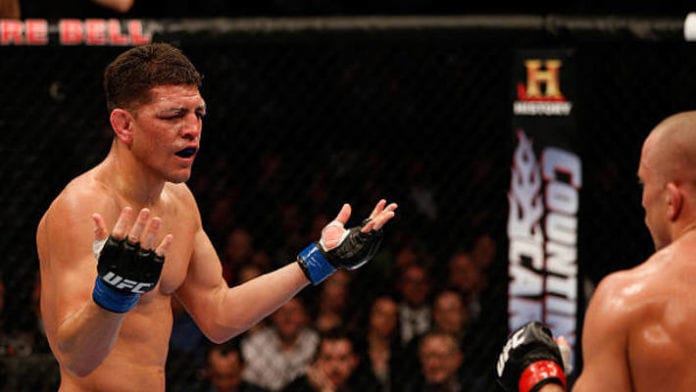 Nick Diaz is aiming high ahead of his return to the cage later this year.
The Stockton man, who was defeated by Robbie Lawler in his comeback after six years of inactivity (in MMA terms, at least), has admitted that he plans to make his return to the Octagon in late 2022 — which, if it does happen, will come more than 11 years after his last win in mixed martial arts.
But hey, if you're going to fight you might as well call out the champ, right?
"I'm working on the end of the year," Diaz said to TMZ. "I'm working on it. I'd rather fight for a title," Diaz said. "If I'm gonna fight, I want to fight for a title."
Conventional logic would suggest that Nick Diaz is several rungs down on the title contention ladder at 170-pounds but he suggests that he is not in this to help prop up younger fighters — he wants the big dogs.
"That's the thing and they want to say if I want to fight a bunch of guys and stuff like that, but I'm like, you know what, it's a bigger fight if you just skip all the mess," he said. "I don't want to go in there and get my ass whooped by one of those young guys anyway.
"And it's not that I won't win, it's just that I'm not motivated to fight somebody that's, you know… I want to fight for the title, I'm 38 years old."
And how does he think he would fare against Kamaru Usman, a fighter who hasn't tasted defeat since 2013?
"I think I can beat you," Diaz said. "I'd love it if they gave me a shot. I think I can beat you."
Comments
comments