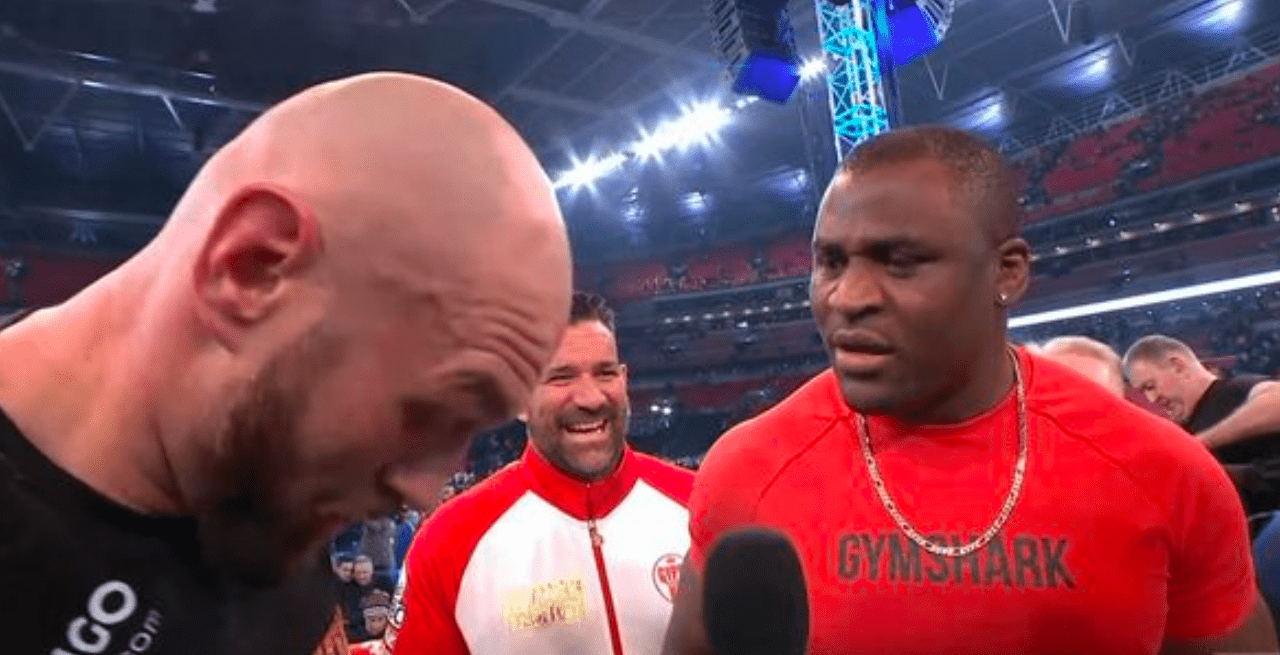 Despite what the purists might say, there is certainly an appetite among fight fans to see what would happen if and when Tyson Fury every steps into the ring with UFC heavyweight champion Francis Ngannou.
The two fighters, both of whom who have claims to the 'baddest man on the planet' title, have been heavily linked to some sort of exhibition fight in the coming 12 months or so, with the flames of this particular rumour stoked even further when Ngannou joined Fury in the rings shortly after the Englishman's dominant win against Dillian Whyte after which he announced his retirement from boxing.
Speaking afterwards, Fury explained that exhibition fights will still be a possibility (including one against Ngannou), though this is complicated somewhat by Ngannou's contractual situation with the UFC. The Cameroonian slugger becomes a free agent on January 1 next year and has long maintained that any new deal he signs must have provisions to allow him to test the waters in boxing.
Numerous discussions between both parties will take place between then and now but should the fight actually take place, another UFC heavyweight contender — and someone with strong links to Tyson Fury — says he knows how he would like the hypothetical fight to transpire.
"Little gloves, for sure, and five-minute rounds, that would definitely make it a little bit even," Tom Aspinall said, via Sky Sports.
"I think they should do first round boxing only. Second round, maybe, boxing and low kicks. And third round, I don't know, boxing, low kicks, and clinching. I think something like that would make it a bit more even."
Mixed rules bouts like this have taken place before. Of course, perhaps the earliest major such fight was that between Muhammad Ali and Japanese wrestler Antonio Inoki more than 40 years ago in 1976, though that soon descended into farce.
More recently, ONE Championship has placed Demetrious Johnson into a mixed rules bout with Muay thai sensation Rodtang Jitmuangnon. Rounds one and three were to take place under Muay thai rules, with two and four under mixed martial arts rules.
Johnson won the fight by second round rear-naked choke.
While this is a massively unlikely scenario for Fury to take part in, Aspinall said that Fury has experience in grappling and wouldn't look too out of his depth.
"I've grappled with him [Fury] before," Aspinall said. "He's interested in it. So, I know he's done bits of grappling, bits of kicks, and all that. He was down in our gym training with Darren Till before, doing kicks on the pads and all that stuff. So, he's definitely got interest in it. I don't know. I'd love to see it, though."
Comments
comments