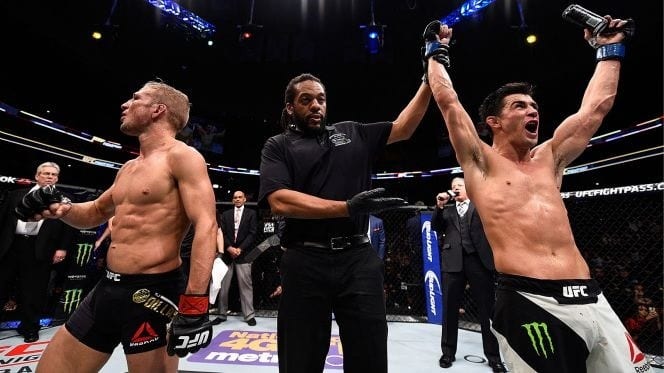 Dominick Cruz isn't quite OK with the prospect of longtime rival T.J. Dillashaw receiving a bantamweight title shot after having fought just once in the past three years, with two of those an enforced stint on the sidelines after failing a drug test.
Dillashaw was issued with a two-year USADA suspension following his unsuccessful bid to claim the UFC flyweight title from Henry Cejudo back in early 2020. He used that suspension to correct issues with both of his shoulders, and eventually returned last July where a close split decision win against top 135-pound contender Cory Sandhagen — a win which reinserted him into world title talk.
Cruz, himself a former bantamweight champion, though, says that the idea of Dillashaw getting a title bout after just win — and a drugs ban — in recent years doesn't sit well with him.
"He was suspended for cheating, so to get a shot after one win OK, cool," Cruz said to Ariel Helwani on The MMA Hour, via MMA Fighting.
"Sounds like a hook-up to me. He got two years off, didn't really lose any money and then just gets right back up in [the title picture]. It's not like he had an easy fight; [Cory] Sandhagen's no joke. But still, one fight? Pedro Munhoz and all these other people that are in the division that have just been competing, competing, competing, it's crazy.
"But I kind of get it, because when I was laid off for so long with my knee injuries, I came back, fought [Takeya] Mizugaki, blew my knee out again, and came back and got a title shot. But I hadn't lost, and I hadn't gotten in trouble for anything — I just blew my knees out. So, it's a little different, and I got my shot that way.
"But it's showing me that what is dominant in each division is ticket sales and storyline, and the storyline of T.J. Dillashaw, the fact that he cheated, isn't really in that. If anything, it just makes people dislike him more, which will make people tune in. So I think that the storyline is more important for the UFC than anything else to sell tickets than who deserves what."
As for his own future, Cruz says that at this point of his career he is fighting to add further achievements to his legacy.
"I've told them dates," Cruz said. "I'm ready to fight. Right now, I'm at a point where I'm fighting for my legacy. I'm a multiple-time world champion. The belt's important, but really, going toward the belt just cements my legacy, and that's why it's important to go that direction, to be fighting the Jose Aldos, the Petr Yans, the T.J. Dillashaws, the Aljamain Sterlings, the [Merab] Dvalishvilis, that are right there at the top. I'm not asking for some kind of handout – I'm asking for the toughest dudes in the world, and when the date matches up, it'll happen."
Comments
comments