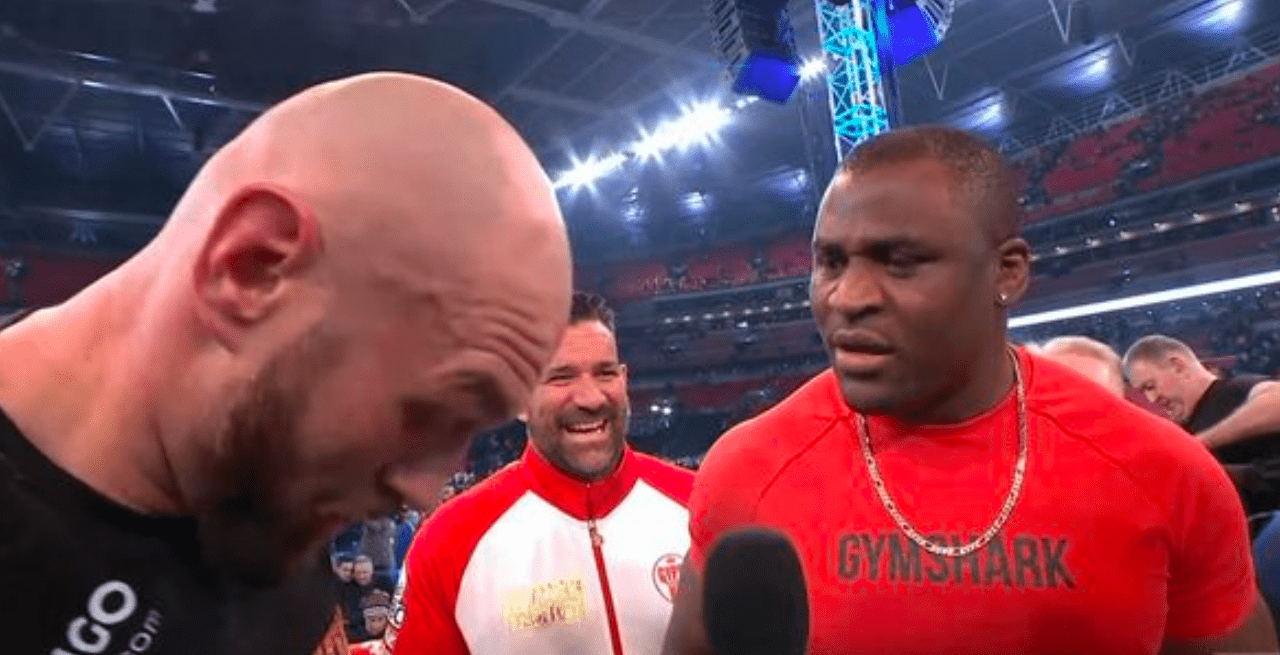 Tyson Fury might be 'retired' but that certainly hasn't stopped him talking about potential future challenges.
Fury, 33, has repeatedly stated that he has indeed retired from professional boxing following last Saturday's knockout win against Dillian Whyte in front of a packed house in Wembley Stadium but speaking in the post-fight press conference, he left the door noticeably ajar for exhibition bouts — such as with the man who shared the ring with him in the moments after his victory, UFC heavyweight champion Francis Ngannou.
There remains a lot of contractual obstacles in place before this might become a reality, but in his press tour this week Fury has indicated that he does indeed see himself taking on Ngannou in some capacity — and fully expects the potential fight to go down like practically every other but in his career: with his hand raised afterwards.
"Yeah, I think it would be an exhibition fight," Fury said of the fight to talkSPORT. "Great, great clash of the titans and obviously I would win."
Fury has made a big deal about considering himself among the hardest hitters in the heavyweight division; a stark contrast to his earlier career in which he was much more of an in-and-out counter puncher, and says that the shot which toppled Whyte in London last weekend would have ended any man, Anthony Joshua or Oleksandr Usyk included.
"100 per cent, it would knock any man out," Fury said. "I don't like comparing to former greats of the boxing game. It would knock anybody out, but that's not comparing me to anybody else in history, just people from my era."
But whether or not that same shot will finish Francis Ngannou, perhaps the hardest hitting puncher in UFC history, remains open for debate. But both men appear to think we'll find out sometime next year.
Comments
comments