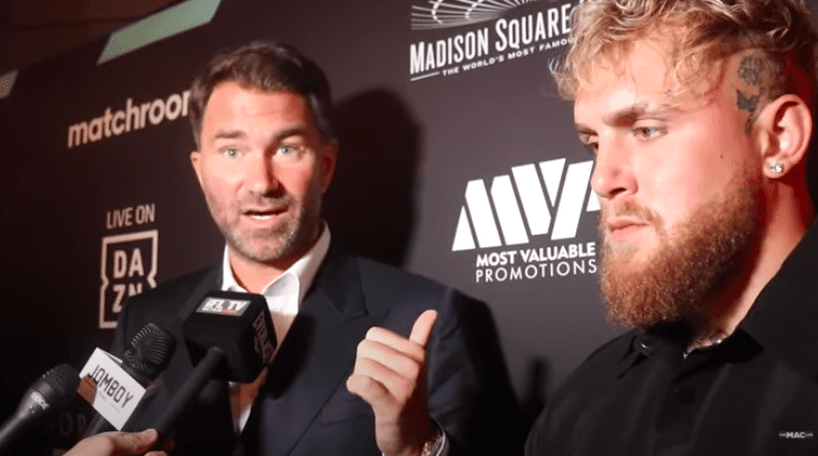 Eddie Hearn and Jake Paul have come to an accord over the promotion of this weekend's Katie Taylor vs. Amanda Serrano boxing match — but when it comes to Paul's own boxing career, Hearn isn't pulling any punches.
Upstart boxer Paul continues to talk up a big game ahead of his forthcoming fights, even telling Hearn in front of the media that he could beat any of his Matchroom-contracted fighters who had ten or less bouts on their record, and going on to say that he could defeat Canelo Alvarez with around two more years training under his belt.
Hearn countered, saying that he has around 400 fighters under contract who could beat Paul.
"I think there's absolutely no way he can beat a world champion and become world champion," Hearn said, addressing Paul's future career.
"I will say he's improving a lot, he's dedicated to the sport. I don't how good he is because he hasn't faced a real fighter yet. It's not his fault, he signed to fight Tommy Fury."
"A five-time world champion in Tyron Woodley is a real fighter," Paul dissented.
"Mate, he's not a real boxer," noted Hearn. "
"I mean, the first skill of MMA is boxing. He won the UFC championship with a right hand," Paul replied. "You consider Tommy Fury a real boxer?
"Not in terms of ability," Hearn shot back. "A real boxer is someone who that is his craft. What I'm saying is, [Woodley] does not give you any right to talk about a world title, and nor does Tommy Fury actually. I'll give you the props, I'll give you the respect. You're improving all the time, but the proof will be in the pudding.
"I don't believe you'll ever get close to being a world-class fighter."
Check out the full exchange from Thursday's media scrum as captured by TheMacLife in New York City.
–
Comments
comments