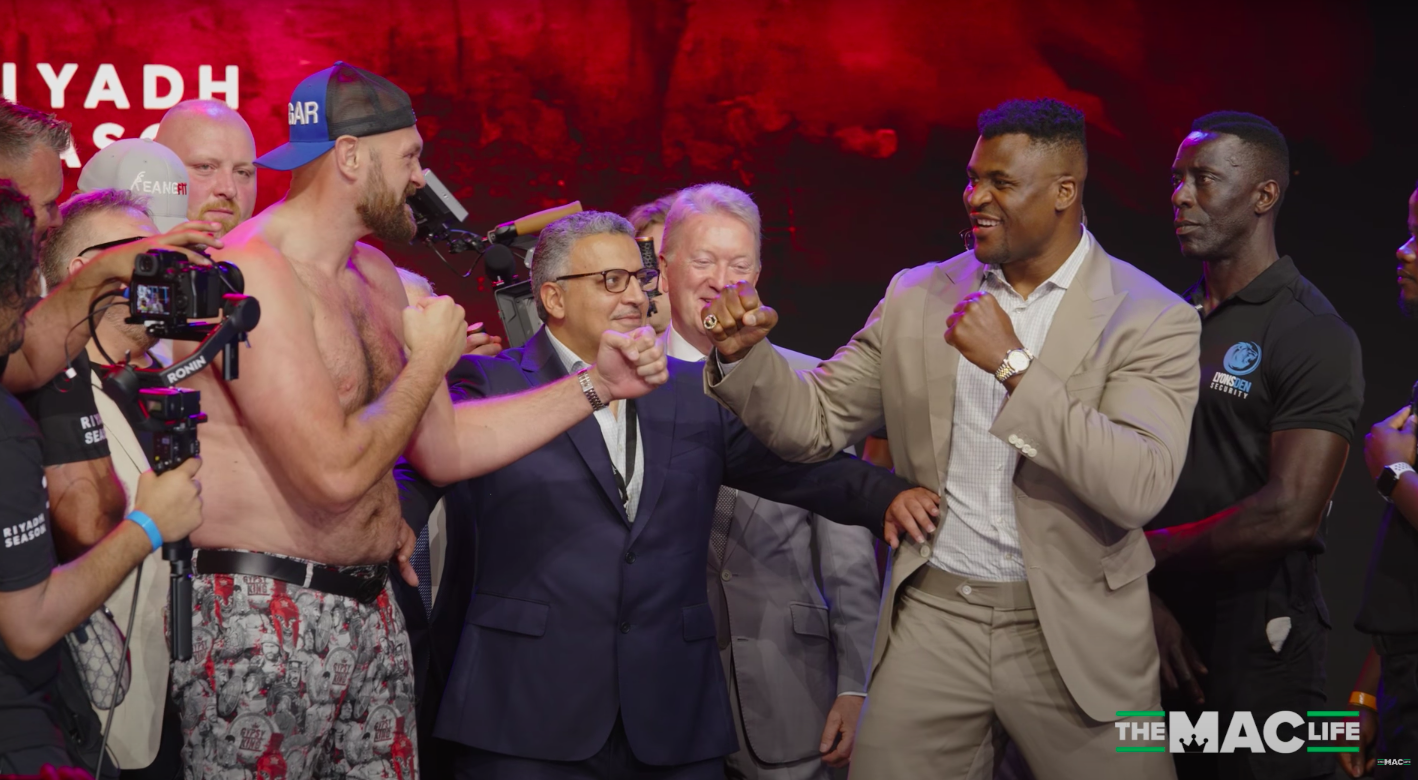 If you are to ask fight fans, oddsmakers and even people on the street, the vast majority would likely say that Francis Ngannou has little chance of handing Tyson Fury his first professional defeat when they clash in Saudi Arabia on October 28.
One man, though, who says that former UFC heavyweight champion Ngannou has more than a puncher's chance is the man that he is set to share the ring with, WBC heavyweight titleholder Tyson Fury.
"I need to be on my A-game," Fury said during a press event in Riyadh on Thursday, the video of which you can watch below. "There's more on the line now than in a boxing fight. If I lose to an MMA guy I'll never be able to show my face in public again," Fury added. "It's going to ridicule me — people will chuck it at me forever."
One prominent bookmaker has listed Fury as the 1/12 favourite in the fight, with Ngannou — perhaps the hardest puncher in UFC history — a prohibitive underdog at 7/1. It is even listed at just 6/1 for the fight to go the distance, such is the advantage that oddsmakers view Fury as having.
But in his comments in Saudi Arabia yesterday, Fury said that he is very wary of the challenge he is facing.
"There's more riding on this than ever before," he said. "Whether the media want to take it as a joke, make no mistake Tyson Fury will leave zero stones unturned and I will come in as my fittest and strongest I've ever been to defeat this man. If I'm not and I get knocked out, then I want you all to laugh at me. That's what I want, because I deserve it."
Ngannou, who has been training alongside Mike Tyson for the bout, is backing his power to cause an upset.
"What will happen at the moment that guy hits the floor and doesn't stand up?" he said. "Will I be the best boxer in the world? If you take out the number one, you are the number one? I think so."
Comments
comments