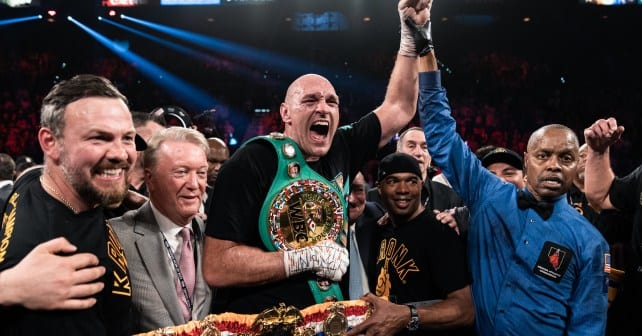 Tyson Fury is more than happy to meet Deontay Wilder in the ring for a third time as their rivalry looks to come to an end.
Fury was last seen defeating Wilder via a stoppage in an incredible performance, with a trilogy fight already on the cards in their contracts. And apparently, when Wilder exercised his right to rematch Fury, Fury was anything but disappointed.
"I'll be obliged to give him a bit more though. You never sick of beating Deontay Wilder up, it's one of those things where you take great pride in doing," Fury said, speaking on Great Morning Britain. "I really did what I said I was going to do and not many people, in boxing especially, say something and then do exactly what they were going to do.
"So I was quite proud of the performance and I'm really looking forward to getting all this coronavirus out of the way and the world getting back on track and getting back to my job."
Fury and Wilder were originally supposed to tangle in July, although it seems that bout has now been pushed back to October after the coronavirus pandemic has left large crowds unfeasible. For Fury, who's made no secret of his need to work out to maintain his mental health, being stuck in the house has forced him to find new ways to keep on top of things.
"It's quite difficult because obviously I'm not allowed to go to gyms for training," Fury said. "However, I've been doing every morning at 9am a workout video with the world live on Instagram. We do a 50-minute workout. It helps me stay in shape and helps many, many people out there who join in from all over the world.
"I'm very, very grateful that I can have an input on helping people with their fitness and mental health problems during these lockdown times. I've got Paris here and the kids. Everyone goes nuts in the front room while we're working out."
Comments
comments