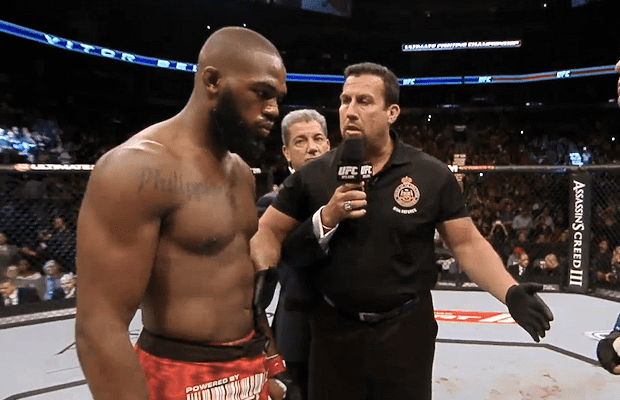 The only way to save Jon Jones from himself if to punish him to the full extent of the law, says former referee-turned-analyst John McCarthy.
McCarthy, arguably the most well-known official in mixed martial arts history, has overseen some of Jones' greatest successes inside a cage, raising his hand in victory on several occasions — but he says Jones' actions outside of it are becoming an increasing danger to both himself and society.
Jones, without question the greatest light heavyweight fighter in history, was arrested several days in Albuquerque, New Mexico after he was pulled over by police and admitted to having consumed alcohol. He subsequently failed several roadside sobriety tests and is also alleged to have had marijuana and a firearm inside of his vehicle.
It is the latest of a long list of blemishes on Jones' career. In 2012 he escaped unharmed after he crashed his car into a utility pole in New York State, while a more serious infraction occurred years later when a car being driven by Jones struck a vehicle being driven by a pregnant lady. Jones fled the scene on foot before turning himself into authorities the following day.
The list, well, it goes on and John McCarthy says that he has had enough.
"Oh, he's going to go (to jail)," McCarthy said to Josh Thomson in an episode of their Weighing In podcast via BJPenn.com. "On this, guaranteed he's going to have time that he's sitting in a cell.
"When you do the fight game, you show how good you are. You are the yin and yang when it comes to your life and your fight ability. You are a world champion inside the cage. Outside the cage, you're an absolute loser."
McCarthy even suggested the UFC bite the bullet and sever ties with their 205-pound champion entirely. In that hypothetical scenario, Jones says he would petition Bellator president Scott Coker to not sign him.
"If I was in charge of the UFC, I would cut him. Not only would I take his title, I would cut him," he said. "And I'm telling you this Josh, straight up, if Bellator wanted to sign him, I would do everything I could to say, 'Why are you doing that, don't even think about it.' Because all he's going to do is bring you bad press.
"What he brings to the cage, in the end, is not going to be worth what he's going to bring to you on the outside. Because put it this way, he's been lucky because he hasn't hurt somebody. And I don't think Jon wants to hurt somebody," he continued. "But he's putting himself in positions of where he's not in control of his faculties to the point where what happens if he hits somebody and they die?"
Jones and McCarthy are known to have a fractious relationship and Jones is known to have asked for McCarthy to not officiate his fights based on what he described as, "some of our previous interactions."
Comments
comments