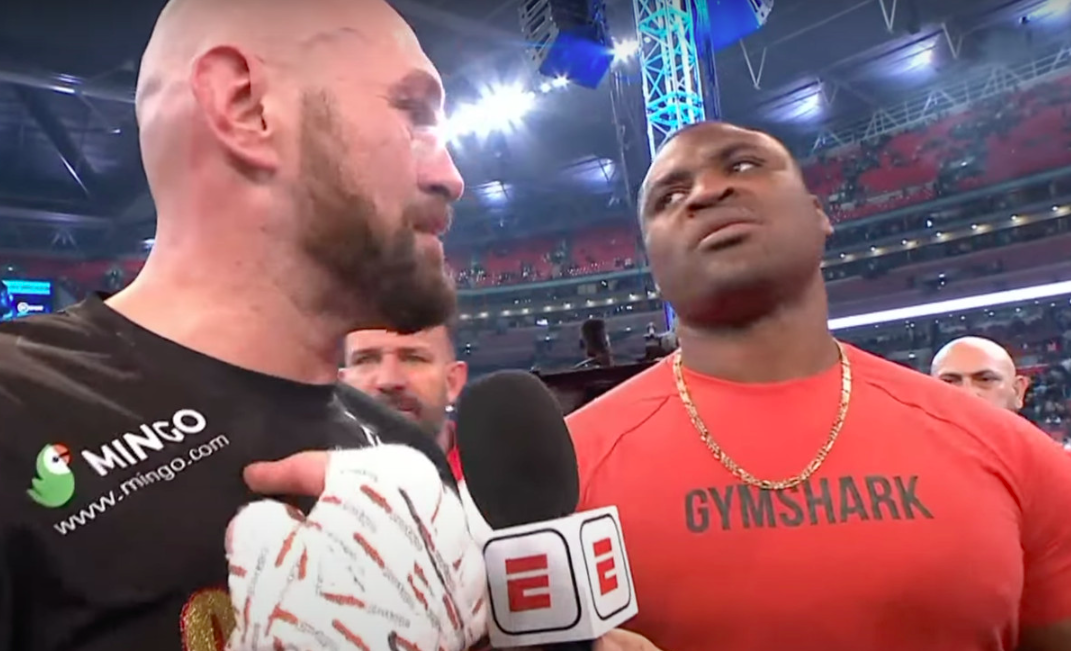 Tyson Fury could potentially become boxing's first undisputed champion in two decades if the mooted April showdown with Oleksandr Usyk becomes a reality but if not, the Gypsy King as a Plan B in mind.
Fury has been strongly linked to a potential fight with former UFC heavyweight champion Francis Ngannou, with both fighters stoking the rumours with recent comments to the media, most recently centred upon a fight which would — in theory at least — take place in a cage and with 4oz gloves, but contested under traditional boxing rules.
And while Fury seems focused on a history-making fight with WBA, IBF, and WBO heavyweight champion Usyk, the potential fight with Ngannou remains an attractive possibility.
I'm hoping so [the Ngannou fight happens]," Fury said this week at a press event promoting Tommy Fury's February fight with Jake Paul. "I'm very much hoping so.
"Because if Usyk doesn't happen like this month coming, then I'm going to say, 'right then, let's move on and do Francis Ngannou'. And I'm looking to get big Francis in a cage with 4oz gloves on and throw down with him swinging some big bombs. It's risky because Francis at one point was considered the biggest puncher in combat sports. So, with 4oz gloves on, all it takes is one punch and it's all over."
In his own recent comments,  Ngannou — who had knee surgery to repair a serious injury last year — stated that he would be open to waiting until the summer to fight Fury, allowing time for the Usyk bout to take place if an April fight cannot be arranged.
"I've talked to somebody, some of [Fury's] advisors, but they're working on a fight with Usyk in April," he said. "So, until then, he will not be free.
"But I'm trying to see if we can have an agreement before that fight. That will also give me some time to get prepared for a boxing fight. So, I have no problem with the timeline that I'm expecting, that I hope will be sometime in June, July, which is doable. So, let's see. I think it's too early to make a conclusion.
"It's too early to say anything about it, but it's definitely something that we're looking into. We've been talking about this fight [for] the past two years. I think, at this point, the people are waiting for this fight and talking about this fight more than the [Anthony] Joshua fight."
Comments
comments